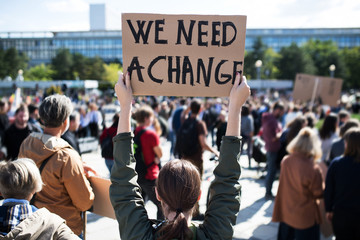 Nurses Picketing Over Staffing and Workplace Violence After Nurse Stabbed in Face
Virginia Mason nurses picketed outside the Seattle hospital on Tuesday to demand better staffing and protection against workplace violence.
The picket by hundreds of nurses in the Washington State Nurses Association comes after 15 bargaining sessions.
According to the union, one nurse was stabbed in the face with a butter knife and another was nearly hit in the head with a claw hammer.
Nurses say they've approached management with proposals for better security, which would help retain nurses and attract new ones, but they are being ignored.
" I've never felt more unsafe," Virginia Mason emergency department nurse Kimberly Travis-Carter said. "A lot of patients come in with weapons on them — homemade weapons — we've had instances where we've had guns in our ER."
As for staffing, they say their workload is rising because the hospital has been losing nurses and cutting traveling nurses' contracts.
Critical care nurse Michael Salters was on the picket line Tuesday morning. He said patient care is at risk when some wings of the hospital are at times short five, ten, or as many as 12 nurses.
"More staffing — feeling unsafe isn't just a risk to someone being around you, it's not having enough nurses to take care of the patients we have," said Salters.
From July to August this year, the net number of registered nurses dropped by 60 - a decrease of 9.5% of registered nurses, according to hospital data.
According to the union, from July 2022 through June 2023, several departments at the hospital have seen turnover of more than 100%. It also says the hospital has a lack of experienced nurses.
The nurses picketed in the morning. Another is planned for the afternoon, followed by a rally.
We reached out to Virginia Mason for comment on the picket and received this statement:
"The nursing staff at Virginia Mason Medical Center play an invaluable role in caring for patients in our hospital, our clinics and our community. Virginia Mason Franciscan Health is committed to ensuring a safe and high-quality workplace that attracts and retains our dedicated employees. We address any safety issues immediately as they occur and work to ensure a secure environment is provided for everyone. We respect the collective bargaining process and are participating in good faith. As we move forward with the negotiation process, patients can expect to receive uninterrupted, quality care." - Kelly Campbell, Division Vice President, Marketing and Communications, Virginia Mason Franciscan Health.
Article from KIRO 7 News.
------------------------------------------------------------------------------------------------
Safety in the workplace is vital. For continuing education on various workplace safety topics, view the courses below:
Pedagogy's courses are available for purchase by the individual or facility. For individuals, register with us to create your username and password, click on the course title of interest and then click the Purchase button. For a complete listing of all our online continuing education courses, including the largest selection of infusion continuing education courses offered online, click here!
For organizations that would like to purchase education for their entire staff, email sales@pedagogyeducation.com and let us know the course(s) of interest and how many staff members you need to provide education for, and we will be happy to send you a price quote.