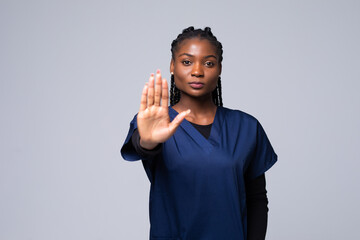 On the Front Lines: Violence Against Nurses on the Rise
March 18, 2021 -- In 2 years of working as an emergency nurse at a hospital in the San Francisco Bay Area, Mawata Kamara has endured countless incidents of violence and abuse from patients. She and her fellow nurses have been hit, kicked, spat on, or verbally threatened with death. Patients have even chased them down hallways or stalked them after being discharged.

Recently, Kamara, a Black woman who is 8 months pregnant, was trying to calm and restrain a belligerent patient who was screaming and trying to jump off his gurney. "He looks at me and tells me, 'You f------ n-----, I have an AK-47 at my house. I'm going to bring it back and shoot you right in the face."

Violence against health care workers has reached epidemic proportions. According to a study from the Occupational Health and Safety Administration, health care workers account for approximately 50% of all victims of workplace violence.

Workers in health care settings are 4 times more likely to be assaulted than workers in private industry, according to the Joint Commission, an organization that accredits U.S. health care organizations. "Alarmingly, the actual number of violent incidents involving health care workers is likely much higher because reporting is voluntary," it states.

Nurses often take the brunt since they're on the front lines, the ones who interact most with patients and their families. While many assaults don't cause serious injuries, some nurses have gotten broken bones, black eyes, and other harms. In rare cases, nurses have been killed. In April 2019, Lynne Truxillo, a 56-year-old nurse at a hospital in Baton Rouge, LA, saved another nurse by pulling away a patient who was attacking her. The man turned on Truxillo, grabbed her by the neck, and struck her head on a desk. She died several days later from complications related to the assault.
Doctors are attacked as well, but according to statistics from the Emergency Nurses Association, less so than nurses. Among emergency doctors, 47% reported having been physically assaulted on the job, compared to 70% of emergency nurses.
"Doctors spend less time with patients. They'll come to consult, and they'll leave. Nurses and their aides are there 24 hours a day," says Gerard Brogan, director of nursing practice at National Nurses United (NNU), a union and professional organization of more than 170,000 registered nurses. He says nurses and nurses' aides are 5 times more likely than any other type of worker in any industry to be victims of workplace violence.
Kamara, a registered nurse and California Nurses Association board member, has worked previously in intensive care and medical-surgical units, but she says she has seen more violence in the emergency department. "We see patients as they come off the street," she says.
She has witnessed horrifying incidents. Shortly after she began working in the emergency department, the police brought in a man who was aggressive, pacing back and forth, and singing loudly. Security staff were trying to calm him when he ran out of his patient room and into another. "The other patient's just terrified because a random guy just ran into their room," Kamara says.
Security chased him as he ran out into the hallway, knocking down items in his path. "IV poles, crash carts, anything in his way, he just knocks down to the floor," she says. He dashed out of a back door into the parking lot as the staff called 911. More police arrived and some were injured trying to restrain the man, Kamara says. "He started jumping on one of my co-workers' cars. He got on the roof and started jumping and jumping until the roof fell in. He fell into the car and was really agitated. He started punching everything. He literally just totaled the car. He did it with his bare hands." The man had shattered the windshield and ripped out wiring.
"And he was going to be my patient," Kamara says.
When he was admitted to the hospital, "a lot of the other nurses were afraid to go near him," she says.
Brittany Livaccari has been a nurse for 16 years, the last 8 years in emergency medicine. Currently, she works in the emergency department of a hospital in St. Paul, MN, and also is co-chair of the Minnesota Nurses Association. Patients have cursed, yelled, grabbed, pushed, and verbally threatened to kill nurses, she says. "That kind of happens quite frequently."
While Kamara and Livaccari work in emergency departments, violence happens in a variety of medical settings, according to Brogan.
"The legend was it was ER nurses and psychiatric nurses," he says. While there's some truth to that, he says, "we're seeing more widespread violence on [medical-surgical] units, labor and delivery units, everywhere health care is delivered, frankly." He says there's been violence in outpatient clinics, too.
For some nurses, workplace violence has risen during the pandemic. Early in the pandemic, fewer people were visiting ERs, and those who did were often very sick, leading to a drop in violent incidents. But that changed as the months wore on and emergency rooms and hospitals began filling up again. In November 2020, National Nurses United surveyed 15,000 registered nurses across the U.S. and found that 20% reported increased workplace violence, Brogan says. "They attribute that to decrease in staffing levels, changes in patient population, and visitor restrictions."
Not only did some family members become abusive over visitor restrictions to curb new infections, but some chafed at mandatory masking. "Then the nurses have to police them," Brogan says. "Any frustrations about the health care system tend to be taken out on nurses and nurses' aides."
Livaccari, a registered nurse, has felt the heightened tensions. "If you just think about what's going on with the person we're trying to care for, the amount of stress that every single individual everywhere is facing, from the loss of jobs to kids not being able to go to school," she says, "I think definitely, COVID is a big part of some of the violence we're having. Is it 100% to blame for it? I don't think so. There are other pieces to it, too."
Pressure within the health care system has gathered during the pandemic, Brogan says. Wait times have increased, elective surgeries have been postponed. People have lost health insurance during the pandemic, and many patients have conditions that have gone untreated.
But violence against health care workers long preceded the pandemic. "We postulate this: People are getting increasingly frustrated with the health care system. It's hard to see a doctor, people fallen into bankruptcy or having to pay large amounts of bills -- there's an awful lot of frustration in the health care system," Brogan says.
While Livaccari is cautious about increasing stigma toward people with mental illness, she says that many end up in emergency rooms because their communities lack mental health resources. "I don't want to connect 100% to mental health, but I do think the strain on access to mental health care is definitely a part of increased violence."
Some patients also abuse nurses because of medical issues, such as dementia or addiction, Livaccari says. "Because of their medical condition, they're acting out and they're resisting care because they're highly confused or they're under the influence of a street drug or just not thinking right 100%."
But some violent patients aren't impaired and are aware of what they're doing, Brogan says. "There's this myth, especially a myth about the mentally ill, that they're prone to violent outbursts for no reasons." But patients who want to be violent may take advantage of dark corridors or when a nurse is alone, he says. Measures such as better lighting and more staffing have been shown to lessen such attacks, he says.
The issue of workplace violence is a big topic of discussion among nurses. National Nurses United and the Emergency Nurses Association have anti-violence campaigns.
The subject has circulated among nurses online, too. A nurse practitioner who goes by the name Nurse Liz has a YouTube following, and many nurses commented on their own experiences after she did an episode on violence against nurses. Not only have patients struck her in the face, Nurse Liz said, but one man hit her over the head with an IV pole. After another patient threw feces in her face, she developed cellulitis on her optic nerve, leaving her no longer able to wear contact lenses.
But outside of the profession, there's little public awareness of the problem, says Ron Kraus, a clinical nurse specialist who is also the president of the Emergency Nurses Association. "When I tell friends or family members, they're just blown away. They're like, 'What was said to your nurses?' 'What did that patient do?' They have no idea."
Jason Brooks, president and CEO of DT4EMS, leads a company that trains nurses and first responders in how to handle attacks. One course is titled, "Escaping Violent Encounters for Health Care Professionals." When he strikes up conversations at the airport about his line of work, people are shocked. They ask him, "Why would anyone want to hurt a nurse?"
Nurses themselves are often conflicted, Livaccari says. "We're here to help. We're here as caregivers. We want to take care of people. It's really easy for us to excuse the behavior. 'They didn't mean to hurt me. They didn't mean to punch me in the face.'"
In fact, many are taught to accept violence as part of the job. If nurses tell hospital administrators or colleagues about a violent incident, they might respond, "Well, that just happens," says Kraus, a registered nurse.
"Well, it shouldn't happen," he says, "and we shouldn't allow that to be the norm."
Many nurses believe that gender plays a role in why their concerns about violence aren't taken more seriously and have gained so little public attention. "It's always been a female-dominated profession, and it's always been mistreated, frankly," Brogan says. According to him, 87% of U.S. nurses are women.

"Some people come into the hospital and do worse than they would outside because they realize outside, they will get arrested and be held accountable. However, when they come into the hospital, they don't." Mawata Kamara, registered nurse, San Francisco Bay Area

As one commenter wrote after Nurse Liz's episode, "It's OK to hit a nurse, but not a police officer."

While male nurses are assaulted, too, women are subjected to more sexual abuse, such as grabbing thighs or touching buttocks or being groped, Livaccari says.

Kamara also has seen groping in the emergency room. "It's not OK for a man to grope you while you're outside walking. Then it's not OK for them to do it in a hospital, especially when a patient is fully aware of what's going on."

"I'm always one of those people telling nurses, 'Listen, we have to stand up for ourselves,'" Kamara says. "Some people come into the hospital and do worse than they would outside because they realize outside, they will get arrested and be held accountable. However, when they come into the hospital, they don't."

"It's not part of the job. You didn't sign up to get assaulted, you didn't sign up to be abused. We signed up to come and work and help people heal," Kamara says. "We just have to keep pushing that message until it resonates."

Experts say that violence not only harms nurses, but it's also bad for patient care. Nurses who have been assaulted might spend less time with patients, call out sick more often, be more distracted, and have less job satisfaction. Nurses might also develop anxiety and PTSD.

While many nurses are trying to confront the problem of workplace violence, they often complain that hospitals and government agencies, as well as law enforcement, typically don't respond to their concerns.

"Hospitals don't want to deal with it," Brogan says. "They don't want their hospital to get a reputation as being a difficult place to work." Nor do they want a public image as a violent facility, he says.

"This sounds incredible, but it is true. Nurses tend to get blamed if they're the victims of workplace violence," he says. "The usual situation is a nurse will be counseled and asked what she or he could have done to prevent that workplace violence, as though it was some action or words on their part that had instigated the violence."

"Nurses are dissuaded from pressing charges," Brogan says. "That's a PR issue for the hospital." An intense focus on hospital ratings and "customer care" can also discourage reporting of abuse and violence. Some nurses also complain that hospital reporting policies are unclear, it's too time-consuming to complete complicated forms, or reporting doesn't result in any changes.

All told, many things prompt nurses to avoid reporting most incidents. "We feel there's a vast under-reporting," Brogan says.

Still, National Nurses United urges nurses to report all incidents, even verbal abuse or slaps and punches that don't result in injuries. "We encourage nurses to do so," Brogan says, along with documenting who received the report and what was done as follow-up. "You need data."

Kraus of the Emergency Nurses Association agrees. "If you're assaulted or verbally threatened, that needs to be documented every time. It's under-reported, so people don't realize how often it actually happens." He urges nurses to include specific details that highlight how severe the situation was. Rather than reporting that they were verbally assaulted, he wants them to note that patients said, "'I'm going to kill you. I know your last name.' That really happens."

In the last few years, some hospital groups have started tackling the problem of workplace violence, says Katie Harris, director of rural health and federal policy with the Oregon Association of Hospitals and Health Systems. In 2014 and 2015, her organization brought together hospital and nurses' associations to create a toolkit of best practices for addressing health care workplace violence. The toolkit is available online and free of charge, she says

"We saw a real need for additional resources," she says. The toolkit covers multiple areas, including better reporting systems so that data can be analyzed and used to create improvements. "It's hard to know what the solution is if you don't know the full extent of the problem," Harris says.

Nurses not only want hospitals to act on reported incidents, but also to provide safe, adequate staffing, which would help ease patient frustrations. "We're running short-staffed all the time," Livaccari says.

Reduced staffing increases the chances that more violent incidents will occur, Brogan says.

Livaccari also wants hospitals to provide more training on how to curb potentially violent situations. At her hospital, only emergency, intensive care, and psychiatric nurses and their aides receive such training, but not all nurses, she says, even though violence can happen anywhere in the hospital. The presence of security guards trained in ways to defuse violence has been helpful in her department, she says. WebMD's calls to Livaccari's hospital administration for comments were not returned.

Ongoing de-escalation training should include all hospital clinical staff, Harris says. While hospitals have no control over outside social and economic forces that contribute to violence, she believes that practical measures within the facility can help. "I think there are a lot of physical ways in which you can mitigate violence," she says. For example, the toolkit lists controlled access to buildings, physical barriers in admitting and reception areas, and monitored surveillance systems. "That hazard identification -- where people are located, ingress-egress points, lighting -- things like that can really make a big difference," Harris says.

Within the last 5 months, Livaccari's hospital gave all emergency room staffers a wearable panic button that tracks their location within the department. "If I'm in triage or in the locked mental health area in ED, I can push that panic button and it shows up on all the computers in the ED," Livaccari says. She says the system has been activated by staff almost daily.

She herself had used it a day earlier. "I had a patient grab both of my wrists and was pulling me towards them. The majority of my department was able to run and help me." Security also came running, she says. "It was a very fast response."
"You didn't come to work to get swung at or get threatened or get hit. After a while, it can wear on some people. Absolutely" Ron Kraus, registered nurse; president, Emergency Nurses Association

When hospitals don't respond to concerns about violence, nurses may need an outside entity to advocate for them, according to Brogan of National Nurses United. "We counsel them to organize," he says. In cases of increasing violence at a facility, "We will help them fight back against management and document the incidents."

Even law enforcement doesn't always take violent incidents seriously after injured nurses have filed a police report, some nurses say. The Emergency Nurses Association is working with prosecutors and law enforcement to increase understanding of workplace violence against health care workers, Kraus says. "That way, they will come and file an actual charge against a person. Even though it might be a mandatory felony, some of the challenges are to get the prosecutor to do the case."

Nursing associations also support passage of the Workplace Violence Prevention for Health Care and Social Service Workers Act of 2021, a bill recently re- introduced in the U.S. House of Representatives. The legislation would require health care and social service employers to put in place comprehensive workplace violence prevention plans, including procedures to identify risks.

The stakes are high. Nurses are quitting because of the violence, Brogan says. "They just couldn't take it anymore. I've had numerous conversations with nurses. It's 'What's the point? Nothing will be done. We don't have adequate security.'"

Kraus says he also sees nurses across the country leaving their jobs. "You didn't come to work to get swung at or get threatened or get hit. After a while, it can wear on some people. Absolutely."

At Kamara's hospital, one patient chased a nurse, who was forced to run into another patient's room and lock the door while the patient screamed at her from the other side. Kamara says the nurse ultimately resigned.

Kamara says she entered the profession unprepared for the level of violence that she's seen. "I wish nursing schools would talk about it more. I was not ready for this -- not at all. It's just getting worse and worse."

Original article from WebMD.
------------------------------------------------------------------------------------------------
Safety in the workplace is vital. For continuing education on various workplace safety topics, view the courses below:
Pedagogy's courses are available for purchase by the individual or facility. For individuals, register with us to create your log in and password, click on the course title of interest and then click the Buy Now button. For a complete listing of all our online continuing education courses, including the largest selection of infusion continuing education courses offered online, click here!
For organizations that would like to purchase education for their entire staff, email sales@pedagogyeducation.com and let us know the course(s) of interest and how many staff members you need to provide education for, and we will be happy to send you a price quote.