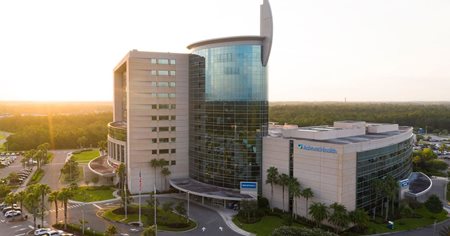 Woman Arrested After Shooting Terminally Ill Husband in Florida Hospital
Police say a woman fatally shot her terminally ill husband inside his Florida hospital room Saturday and barricaded herself in his room for hours before she was arrested.
The woman, Ellen Gilland, 76, could face a first-degree murder charge at AdventHealth Hospital in Daytona Beach. Gilland said she and her husband, 77-year-old Jerry Gilland, had planned the act because of his illness, Daytona Beach Police Chief Jakari Young said at a news conference.
Police responded to the shooting around 11:35 a.m. Gilland refused to leave the room at the hospital, and other patients and staff were evacuated from the area while authorities negotiated with her. Young said she planned to turn the gun on herself but decided she couldn't go through with it.
"Apparently because (her husband) was terminally ill, they had a conversation about it and they actually planned this approximately three weeks ago, that if he continued to take a turn for the worse, that … he wanted her to end this," Young said.
"Apparently the goal was for him to do it, but he did not have the strength, so she had to carry it out for him."
The standoff was isolated to Jerry Gilland's room, Young said. It's not clear yet how she got a gun into the hospital, Young said.
The woman didn't threaten to shoot anyone else, but she didn't put her gun down, Young said. Police used a flash-bang device and a nonlethal round to detain her, and she was arrested just after 3 p.m.
Young encouraged people to seek help if they are struggling.
He called it a "very tragic" incident but said he was proud of how officers handled the situation.
The response included the SWAT team as well as the hostage negotiation team.
Police did not provide details about Jerry Gilland's illness. No one else was injured in the incident, Young said.

Original article by USA Today.

------------------------------------------------------------------------------------------------
Safety in the workplace is vital. For continuing education on various workplace safety topics, view the courses below:
Pedagogy's courses are available for purchase by the individual or facility. For individuals, register with us to create your username and password, click on the course title of interest and then click the Buy Now button. For a complete listing of all our online continuing education courses, including the largest selection of infusion continuing education courses offered online, click here!
For organizations that would like to purchase education for their entire staff, email sales@pedagogyeducation.com and let us know the course(s) of interest and how many staff members you need to provide education for, and we will be happy to send you a price quote.