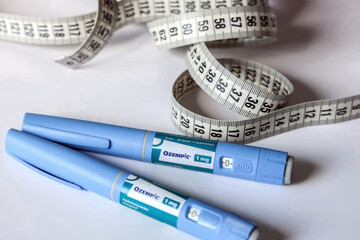 FDA Gives Ozempic Two Drug Safety–Related Label Changes
The hugely popular weight loss agent semaglutide (Ozempic, Novo Nordisk) received a pair of drug safety–related labeling additions from the US Food and Drug Administration (FDA) in late September.
The FDA added a warning to the drug-interaction section of the Ozempic label that reiterates a warning that is already in place in other label sections, reinforcing the message that the glucagon-like peptide-1 (GLP-1) receptor agonist Ozempic can potentially interact with the action of certain other agents to increase a person's risk for hypoglycemia.
The added text says: "OZEMPIC stimulates insulin release in the presence of elevated blood glucose concentrations. Patients receiving OZEMPIC in combination with an insulin secretagogue (eg, sulfonylurea) or insulin may have an increased risk of hypoglycemia, including severe hypoglycemia."
This text was already included in both the "Warning and Precautions" and the "Adverse Reactions" sections of the label. The warning also advises, "The risk of hypoglycemia may be lowered by a reduction in the dose of sulfonylurea (or other concomitantly administered insulin secretagogue) or insulin. Inform patients using these concomitant medications of the risk of hypoglycemia and educate them on the signs and symptoms of hypoglycemia."
Reports of Ileus Episodes After Approval
The second addition concerns a new adverse reaction that was identified during the postmarketing experience: gastrointestinal ileus, an intestinal obstruction. Under the postmarketing category of adverse reactions, it is noted that these adverse reactions were "reported during post-approval use of semaglutide, the active ingredient of OZEMPIC. Because these reactions are reported voluntarily from a population of uncertain size, it is not always possible to reliably estimate their frequency or establish a causal relationship to drug exposure."
Ileus had already been included as a postmarketing adverse reaction on the label for Wegovy (Novo Nordisk), the formulation of semaglutide approved for treating people with type 2 diabetes.

Article by Medscape.
------------------------------------------------------------------------------------------------
Expand your knowledge on the topic of diabetes with our expansive list of diabetes-related continuing education courses:
Pedagogy's courses are available for purchase by the individual or facility. For individuals, register with us to create your username and password, click on the course title of interest and then click the Purchase button. For a complete listing of all our online continuing education courses, including the largest selection of infusion continuing education courses offered online, click here!
For organizations that would like to purchase education for their entire staff, email sales@pedagogyeducation.com and let us know the course(s) of interest and how many staff members you need to provide education for, and we will be happy to send you a price quote.