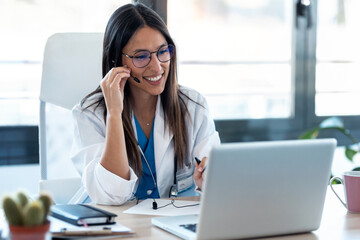 Virtual Nursing Offers a New Career for Burned-Out Nurses
More than a year into the pandemic, as new COVID variants surged in the United States, Nicole McQueen sought a change from her high-stress career in the operating room. After 14 years as a registered nurse in the OR, she switched to virtual nursing. Three years later, she has no regrets. "I wanted to reinvigorate my skills. It piqued my curiosity, and it was something new," she said. "It was also physically less demanding."
These days, McQueen handles admissions and patient discharges from her Indiana home for 8 to 10 nursing units in three hospitals in Maine. They are time-consuming tasks for bedside nurses that can easily be handled off site, McQueen told Medscape Medical News. "I am able to spend so much more time with the patients than the bedside nurse."
She added that her duties include providing patient education, such as detailed discharge instructions often shortchanged by busy bedside nurses.
McQueen is part of a growing cadre of virtual nurses who are using their skills for hospital-based telemedicine, potentially working a more flexible schedule without having to be on their feet all day.
Hospitals using the hybrid nursing model say it gained attention in recent years as an outgrowth of telehealth services and a way to lighten the workload of strained healthcare workers. Virtual nursing helps fill some of the gaps of bedside nurses, administrative and minor tasks that require professional expertise but not the physical presence of a nurse. While there is no national certification or industry standard, hospital leaders are starting to notice improvement in staff morale and turnover.
Rise of Telehealth
Virtual nursing is a subset of telehealth, a broad category for digital information and communication technologies that provide health care services remotely.
The hybrid nursing model differs from telehealth, which took off during the pandemic as a way to link patients with clinicians, generally in an outpatient setting, according to Tom Bobich, MBA, vice president of marketing at Hicuity Health. The company provides telemedicine services to more than 140 hospitals in 34 states.
More recently, telemedicine expanded into patient care, such as remote monitoring and tele-triage, Bobich said. "And now hospitals are trying to figure out what workloads can be handled remotely. And except for tasks that require hands-on care, much can be done offsite."
Virtual nurses can help with admissions, conduct initial patient interviews, handle discharges, and offer confirmation on medications that require two nurse signatures, he said.
McQueen, who works for Hicuity, said that as a virtual nurse, she reviews charts to make sure they are complete. "At my previous virtual job, we also provided support for newer nurses," she said. "For instance, I could answer questions that they may have about the patient or a procedure or a medication."
Telehealth nurses earned an average annual salary last year of nearly $63,000, or about $31 an hour, according to Payscale. Meanwhile, RNs nationwide earned an average of $89,000 annually, or about $43 an hour last year, the US Bureau of Labor Statistics reported.
Potential Downsides
While it continues to evolve, virtual nursing lacks formal structure and regulation. At this point, becoming a virtual nurse doesn't require any specific training or certification, except what the healthcare facility may request, such as learning how to use its electronic health records and virtual platform.
The American Nurses Credentialing Center said it is not considering a virtual nursing certification. Earlier this year, however, the Medical-Surgical Nursing Certification Board announced a new virtual acute care nursing certification. It will include patient education, staff mentoring, patient monitoring, physician rounding, ongoing risk assessment, and support activities during admission and discharge.
At least one nurses' union urged caution in hiring virtual nurses. The California Nurses Association (CNA), which is affiliated with National Nurses United, was concerned about other types of telehealth programs, including advanced home care that replaces hospital nursing care with technology.
Instead of hiring virtual nurses to handle admissions and discharges, hospitals should try to improve working conditions so that bedside nurses return to work, said Rochelle Pardue-Okimoto, RN, a CNA nursing practice representative.
"There has to be some other motivation to doing it virtually as opposed to hiring someone who is physically going to be right there at the bedside," she told Medscape Medical News.
"We don't believe that you can give optimal care in this model," she said of virtual nursing. "We believe that this is something that is ultimately trying to change the scope of practice of registered nurses and decrease the number of registered nurses at the bedside. And this is the exact opposite of the goal of increasing staffing and improving workplace conditions."
To date, hospitals have only used virtual nurses in acute settings in a limited way, Pardue-Okimoto said, adding that there's non-patient paperwork they can easily handle. "We can see how it can also be appealing for nurses and give them different career options."
Addressing Burnout
AdventHealth Fish Memorial in Orange City, Florida, recently started a virtual nursing pilot program to deal with burnout and workforce shortages, according to Michele Johnson, RN, chief nursing officer. "We were looking at from the perspective of reducing workload intensity and not from increasing ratios," she said.
The pilot program began in two nursing units and the emergency department. The hospital maintains a 1:14 virtual nurse-to-patient ratio. The virtual nurses assist the primary staff, handling admissions, enhancing patient education, providing virtual observation, and helping new nurses, Johnson said.
When a virtual nurse provides around-the-clock observation, patients understand that there is "always someone there" behind the screen. But they always knock or ring the doorbell of a patient's room before entering the first time. "This is so the patient doesn't feel like someone is always watching them," Johnson explained. "There have only been a handful that have refused care from a virtual nurse."
Staff retention and job satisfaction is one of the biggest rewards of the virtual nurse program, Johnson said. Turnover at the hospital declined from 30% to 9% with the pilot virtual nurses, she said. The pilot program also contributed to a low job vacancy rate and eliminated the need for travel nurses. "We realized that we just can't keep doing things the same way."
Division of Duties
At Saint Luke's Health System Kansas City in Missouri, patients who have a quick question about their care — or perhaps just can't work their TV remote — can call for a virtual nurse through a computer screen for immediate attention.
St Luke's started using virtual nursing in 2019 to address staffing issues.
"We identified areas where innovation and technology could truly transform the way we provide care — and even help us extend and expand nursing careers," said Susie Krug, RN, chief nursing officer at Saint Luke's East Hospital in Lee's Summit, Missouri. It's one of the health system's 16 area hospitals and campuses.
Krug explained that virtual nursing is now an option for nurses who may have wanted to leave bedside nursing for any number of reasons but didn't really want to give up patient care.
"We brought together our own multidisciplinary team and mapped out what our program would look like at Saint Luke's," she said. This included how to divide services between bedside and virtual nursing teams to be the most efficient and effective.
St. Luke's hires virtual nurses as staff, whether they are a full-time employee in a tech center or work both at the bedside and as a virtual nurse.
At other health systems, virtual nurses may work in a room with a computer and camera, or remote nurses may work from a command center, managing operations across several campuses. In addition, some hospitals contract with a third-party clinical service, such as Hicuity, to manage the technology and provide virtual nurses.
Hospitals decide how many virtual nurses they need based on patient-to-staff ratios and tasks to assign to the nurses. In some cases, a virtual nurse performs physical assessments using sensors or with help from a technician assistant.
Virtual nurses at St Luke's handle admissions, including medications that patients need before receiving further care; provide a second confirmation when needed for medication sign off; or conduct a skin assessment and discharge education, Krug said. The health system has only used virtual nursing in the acute setting so far, but will consider expanding to other areas, she said.
Original article from Medscape.
------------------------------------------------------------------------------------------------
If you would like to learn more about mindfulness and mental health, check out the following courses:
Our courses are available for purchase by the individual or facility. For individuals, register with us to create your username and password, click on the course title of interest and then click the Purchase button. For a complete listing of all our online continuing education courses click here.
For facilities or organizations that would like to purchase education for their staff, email sales@pedagogyeducation.com let us know the course(s) of interest and how many staff members you need to provide education for, and we will be happy to send you a price quote!