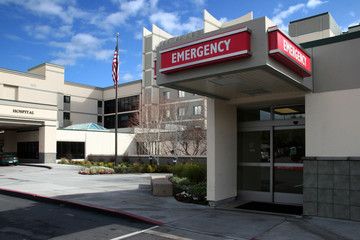 Nurses Suspended For Speaking Out About Unsafe Staffing
In October, three ER nurses were escorted out of Ascension Saint Joseph's Medical Center of Joliet and suspended after voicing concerns regarding staffing.
Ascension Saint Joseph's Medical Center
is located in Joliet, Illinois.
According to the Illinois Nurses Association (INA), hospital staffing guidelines recommend the unit be staffed with 10 nurses, but only four were available to treat 46 patients. The nurses raised their concerns,
according to reports
, and were promptly escorted out of the hospital.
"It is unacceptable that our nurses were forced off the premises by security personnel and locked out of the hospital," INA Executive Director Julia
Bartmes said in a correspondence to the hospital
. "The INA will pursue all legal avenues to ensure that our nurses are protected in their employment and that they are protected in their service to the patients of St. Joe's."
We need staffing ratios in our hospitals all across Illinois, now. People's lives are at risk because Springfield is allowing for-profit hospitals to cut corners. Don't let them - pass the Safe Patient Limits Act now. https://t.co/89vuWRF4Y9
— Illinois Nurses' Association (@INAaction) October 23, 2022

A news conference was held on Saturday evening with local news station WGN Channel 9. Hannah Puhr, a dayshift nurse in the ER, spoke on behalf of the suspended nurses.

"Shout out to them," Puhr remarked. "They're amazing, they have some of the best nurses that I know." She added, "They were scheduled to have four staff members when they should have had anywhere from 12 to 14 last night. There were 51 patients in the emergency room at that time. If you do the math, it's incredible and dangerous. We were very concerned about it, this has been happening for months and years and enough is enough, we are sick of it. We care about our patients, and we don't want to be making do when our patients our suffering."

The news of the suspended nurses has been far-reaching, with Joliet Mayor Bob O'Dekirk as well as at-large Councilmen Joe Clement and Cesar Guerrero at the news conference. Interestingly, nurses at Ascension St. Joe's, signed a three-year union contract after a ten-day strike. One of the major areas of focus was patient safety and safe staffing ratios.

Former INA president and current board member Pat Meade said nurses from other cities were offered triple time pay to help staff the ascension ER Saturday night.

At the time this article was written, Ascension Saint Joseph's Medical Center has not offered a statement at this time and the names of the suspended nurses have not been made public.

Original article by nurse.org.
------------------------------------------------------------------------------------------------
If you would like to learn more about self-care and mindfulness and how it relates to your nursing practice, check out the following courses:
Want all of these courses for 10% off? View our Self-Care Continuing Education Package!
Pedagogy's courses are available for purchase by the individual or facility. For individuals, register with us to create your account, click on the course title of interest and then click the Buy Now button. For a complete listing of all our online continuing education courses, including the largest selection of infusion continuing education courses offered online, click here!
For organizations that would like to purchase education for their entire staff, email sales@pedagogyeducation.com and let us know the course(s) of interest and how many staff members you need to provide education for, and we will be happy to send you a price quote.