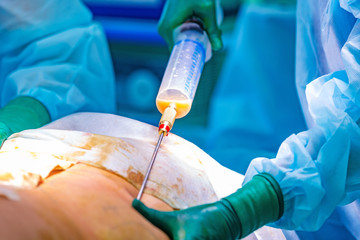 Nurse Dies After Attempting to Perform Liposuction on Herself
A 30-year-old nurse who reportedly performed liposuction on herself at a clinic in Mexico has died from the fatal cosmetic procedure.
The woman, identified only as Carina, was found unconscious in a doctors office after allegedly attempting liposuction on her stomach, a process that removes excess fat from the midsection.
It's the latest in a series of reports about people dying of faulty plastic surgeries.
Carina reportedly gave herself anesthesia prior to the procedure despite not having any training in administering the medicine.
She was found unconscious in a doctor's office and died of cardiorespiratory arrest, the sudden loss of breathing and heart function.
A co-worker alerted paramedics, who tried to revive Carina, however, she died when they got to the clinic, Clinica Amper, which is located in south-central Mexico.
Carina reportedly carried out the liposuction attempt when owner of the clinic, Dr. Rolando Samper Mendoza, was not present and "without my authorization or permission," he told Jam Press.
"One of my nurses named Carina … decided on her own to perform abdominal liposuction with local anesthetic," Mendoza added, expressing remorse over the incident.
"The result of this incomprehensible action was that she died as a result of the massive absorption of anesthetic that she administered herself."
More than 200,000 liposuction procedures were performed in 2020 and 97,988 people had a tummy tuck that same year, according to the latest statistics from the American Society of Plastic Surgeons.
Typically medical issues from liposuction are minor, with the rate for complications at just 5%, according to a 2017 study published in the National Library of Medicine.
Still, deaths caused by lipo are 1 in 5,000 surgeries. Blood clots in the lungs are the most common major complication from liposuction leading to 23% of deaths, according to the same study.
What's more, overall aesthetic body procedures — including liposuction, buttock augmentation (implants also referred to as a Brazilian butt lift), and abdominoplasty (a tummy tuck removing excess skin and fat from the abdomen) — have increased by 63% since 2020 with Americans spending $14.6 billion in 2021, according to the Aesthetic Society, a group of board-certified aesthetic plastic surgeons.
Carina's passing comes amid a wave of controversy surrounding medical tourism to Mexico after four Americans were kidnapped while allegedly trying to get cosmetic procedures in the country.
More affordable treatments are a motive. Indeed, more than 1 million Americans cross the border annually to save up to 70% on procedures, according to Patients Beyond Borders, and cosmetic and weight-loss surgeries are among the most sought after.
Idaho resident Justine Rodriguez, 37, shared her alarming account with Fox News of traveling to Tijuana in 2016 when her insurance would not cover bariatric surgery, the weight-loss procedure.
"My lungs collapsed. My kidneys and my liver were going. The infection went to my brain," she told Fox News.
Rodriguez said traveling outside of the country for a major surgery was "probably the worst choice I ever made in my life."
And last January, a mother of two from Alcantarilla, Spain, died following a botched $6,500 fat-trimming procedure in Spain, which reportedly left her body severely wounded.
In another fatal liposuction instance in 2021, a 38-year-old California woman, Keuana Weaver, died and two of her friends were hospitalized after the trio got plastic surgery at a clinic in Tijuana, Mexico, The Post previously reported.
Weaver and her friend were scheduled to get liposuction and tummy tucks with the same doctor when Weaver died as a result of "secondary hypoxic encephalopathy," a brain injury caused by oxygen deprivation. One of the women suffered internal bleeding, according to the article.
Original article
from NY Post.
------------------------------------------------------------------------------------------------
Pedagogy Education offers online continuing education courses in a variety of ways to meet your education goals and budget!
Courses may be purchased individually, or in packages (a bundle of courses, offered at a 10% discount). To view our entire catalog of education, click here. We offer a huge selection of infusion, vascular access, and state-specific IV "certification" courses!
We have annual memberships available to individuals or facilities who want to offer their staff access to a library of education for an entire year. Click here to view our Infusion and Vascular Access CE Membership. Facilities can visit our Annual Memberships to learn more about our nurse and nurse aide custom membership options and to view pricing!
Ready to purchase a course, package, or membership? Start here by creating your account! Want to receive our emails with notifications of new course releases and coupon codes good for discounts on courses? Sign up for our emails here. We would LOVE to have you join us on our social media pages, follow us on Facebook, Twitter, LinkedIn, Instagram, and Pinterest. Watch out for exclusive promo codes!
For organizations that would like to purchase education for their entire staff, email sales@pedagogyeducation.com and let us know the course(s) of interest and how many staff members you need to provide education for, and we will be happy to send you a price quote!