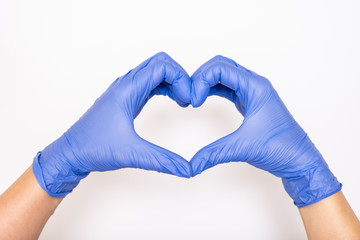 Nurse Still Making Rounds at 90 Years Old
Ellie Ucci really loves her job.
She says she feels like she's never worked a day in her life.
And her co-workers and patients say she brightens the lives of everyone she meets.
Ellie says she was always destined to be a nurse.
When she was little, she made a splint for a dog that had a fractured foot, and that's when she realized she wanted to help others.
As an adult, her nursing career began in a naval hospital.
She also spent time as a school nurse.
But where she says she's truly found herself is here at the labor and delivery center at Banner Gateway hospital in Gilbert, Arizona. That's a suburb of Phoenix.
Ellie says she loves what she does now more than ever.
"I bring new life into the world all the time, that keeps you going," said Ellie. "I have to look at myself in the mirror and see my wrinkles and my white hair and I thought maybe I am ninety, I don't know, but I tell them I feel like I'm in my thirties when I come to work, I really do."
Ellie is helping new parents and their brand new babies in this role.
And of course, she's serving as a mentor for the nurses she works with.
Ellie says the word 'retirement' is not in her vocabulary.
She's says she tries to stay healthy and knows we all have a lot to give to the world.
Original article by WFMZ News
------------------------------------------------------------------------------------------------
Pedagogy Education offers online continuing education courses in a variety of ways to meet your education goals and budget!
Courses may be purchased individually, or in packages (a bundle of courses, offered at a 10% discount). To view our entire catalog of education, click here. We offer a huge selection of infusion, vascular access, and state-specific IV "certification" courses!
We have annual memberships available to individuals or facilities who want to offer their staff access to a library of education for an entire year. Click here to view our Infusion and Vascular Access CE Membership. Facilities can visit our Annual Memberships to learn more about our nurse and nurse aide custom membership options and to view pricing!
Ready to purchase a course, package, or membership? Start here by creating your account! Want to receive our emails with notifications of new course releases and coupon codes good for discounts on courses? Sign up for our emails here. We would LOVE to have you join us on our social media pages, follow us on Facebook, LinkedIn, Instagram, and Pinterest. Watch out for exclusive promo codes!