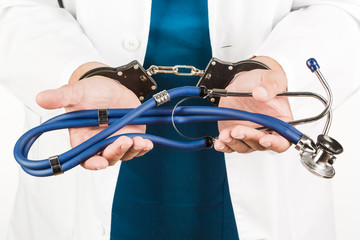 Nurse Practitioner Convicted in $200,000,000+ Medicare Scheme
A Miami-area nurse practitioner has been convicted of defrauding Medicare by submitting fraudulent claims for more than $200 million worth of unnecessary genetic testing and medical equipment, federal prosecutors announced.
Elizabeth Hernandez, 45, of Homestead, could face as many as 75 years in prison when she's sentenced on December 14.
Hernandez overbilled Medicare by more than $200 million, according to prosecutors who say she ordered more cancer genetic tests for Medicare beneficiaries in 2020 than any other clinician in the nation. She "personally pocketed approximately $1.6 million in the scheme, which she used to purchase expensive cars, jewelry, home renovations, and travel," prosecutors said.
After a 6-day trial, Hernandez was convicted of a single count of conspiracy to commit healthcare fraud and wire fraud, four counts of healthcare fraud and three counts of making false statements relating to health care matters. She was acquitted of two counts of healthcare fraud.
The case is part of an ongoing effort by federal prosecutors to target schemes alleged to have defrauded Medicare of billions of dollars in reimbursement for genetic testing and other health services.
Prosecutors alleged that Hernandez took advantage of the flexible telemedicine rules allowed during the COVID-19 pandemic, and she and another nurse "essentially robo-signed" the orders.
As part of the scheme, telemarketing companies would contact Medicare beneficiaries to convince them to request orthotic braces and genetic tests, and then send pre-filled orders for these products to Hernandez, who signed them, attesting that she had examined or treated the patients, prosecutors said in a statement.
According to prosecutors, Hernandez billed Medicare as if she had performed complex in-person evaluations of patients. The time she attested she spent on these supposed office visits often accounted for more than 24 hours in a day. Prosecutors said Hernandez never examined the patients for whom she ordered $14 million in medical equipment, and that she lied when she certified that she'd personally examined them and determined the supplies were necessary.
Prosecutors also alleged that Hernandez ordered $119 million worth of unnecessary genetic tests for patients she wasn't treating. The tests include "cancer genetic" (CGx) tests, which look for mutations that may raise the risk of certain diseases, and pharmacogenetic (PGx) tests, which can provide information about how patients will respond to medications.

Original article from MedScape.
------------------------------------------------------------------------------------------------
Pedagogy Education offers online continuing education courses in a variety of ways to meet your education goals and budget!
Courses may be purchased individually, or in packages (a bundle of courses, offered at a 10% discount). To view our entire catalog of education, click here. We offer a huge selection of infusion, vascular access, and state-specific IV "certification" courses!
We have annual memberships available to individuals or facilities who want to offer their staff access to a library of education for an entire year. Click here to view our Infusion and Vascular Access CE Membership. Facilities can visit our Annual Memberships to learn more about our nurse and nurse aide custom membership options and to view pricing!
Ready to purchase a course, package, or membership? Start here by creating your account! Want to receive our emails with notifications of new course releases and coupon codes good for discounts on courses? Sign up for our emails here. We would LOVE to have you join us on our social media pages, follow us on Facebook, LinkedIn, Instagram, and Pinterest. Watch out for exclusive promo codes!