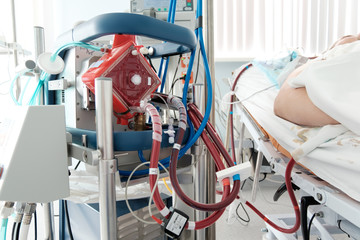 Mobile ECMO Saves Life, Patient Fighting to Regain Old Life
Melissa Stagg no longer takes for granted what comes naturally to most people. Walking, bathing herself, and living a life without potent medications are all recent milestones, ones the Port St. Lucie woman doctors call a "medical unicorn" couldn't have imagined just six months earlier.

Less than a year ago, Stagg's world turned upside down. The mother of three with no pre-existing medical conditions had a cough and fever just before Christmas 2021; within four days she was intubated and on a ventilator with a COVID-19-complicated case of pneumonia. By December 29 it was determined that an extraordinary level of care not readily available was Stagg's only chance of survival. "I was the sickest person in St. Lucie County," she says matter of factly.

Stagg's dire situation required ECMO, an acronym for extracorporeal membrane oxygenation, an advanced therapy that not all hospitals are equipped to provide. It requires a special machine that replaces the function of the heart and lungs of critically-ill patients by pumping and oxygenating blood outside the body. The blood is then returned to the individual, allowing the heart and lungs to rest and recover from damage caused by illness.

Stagg had to be put on an ECMO machine immediately, but doctors feared she could die during the transport to a properly-equipped facility. Thankfully, Memorial Healthcare System had a solution, dispatching nine professionals from its specially-trained transport team to Port St. Lucie and connecting Stagg to a mobile ECMO device. Once her condition was stabilized, the Hollywood-based team was then able to facilitate a safe transfer from her hospital to Memorial Regional Hospital.

"We were the first in South Florida to offer mobile ECMO services," said Dr. I-wen Wang, chief of Memorial's Adult Heart Transplant & Mechanical Circulatory Support Program. "Without it, Mrs. Stagg would be in a much different situation than she is today."
"I would have been dead without mobile ECMO. My husband watched Memorial's team take control of the situation and work like a well-oiled machine," she added.
While ECMO is traditionally a temporary solution in the most critical situations, Stagg's condition required she spend 65 days connected to the machine. During her time in the intensive care unit at Memorial Regional Hospital, she also dealt with blood clots in her brain, leg, and kidneys, infections, and a host of COVID-related issues.
Finally, on May 8, Mother's Day, Stagg was discharged from a rehab facility and able to return home to Port St. Lucie. "It was a long journey that has been much harder than expected, but I'm grateful to be alive," she said.
With the one-year anniversary of the start of her medical ordeal in sight, Stagg is preparing for a much different holiday season than the last. While still actively engaged in physical therapy, she is back to being a wife to husband, David, and mother to Stephen, Kaitlyn, and Nicholas. She continues to work to regain all she lost earlier this year. "People can't believe the progress and recovery I've made. I'm continuing to improve, so if that makes me a unicorn, I'll take it."
Memorial Regional Hospital has been recognized by Extracorporeal Life Support Organization (ELSO) as a "Designated Gold Level Center of Excellence" for its extracorporeal membrane oxygenation (ECMO) program. The Memorial Healthcare System facility is one of only four adult hospitals in Florida to earn the recognition from the international society and the only program south of Orlando.
Memorial's ECMO program is made up of a multi-disciplinary team of critical care, cardiac surgery, heart failure, and transplant surgery specialists who work together to support patients. It is part of the Memorial Cardiac and Vascular Institute, a cardiovascular care leader that offers a wide array of services dedicated to the prevention, detection, and treatment of cardiovascular disease.
Original article
by South Florida Hospital News.
------------------------------------------------------------------------------------------------
To learn more about heart disease and prevention and to earn cardiac related CE hours, Pedagogy offers the following courses:
Pedagogy's courses are available for purchase by the individual or facility. For individuals, register with us to create your username and password, click on the course title of interest and then click the Buy Now button. For a complete listing of all our online continuing education courses, including the largest selection of infusion continuing education courses offered online, click here!
For organizations that would like to purchase education for their entire staff, email
sales@pedagogyeducation.com
and let us know the course(s) of interest and how many staff members you need to provide education for, and we will be happy to send you a price quote.