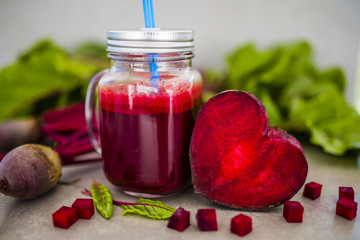 Drinking Beetroot Juice Everyday May Reduce Risk of Heart Attack in Angina Patients
Taking a glass of beetroot juice every day can reduce the risk of heart attacks in angina patients, researchers have found.
Angina or chest pain is a common symptom of coronary artery disease caused by reduced blood flow to the heart. A percutaneous coronary intervention (PCI) or angioplasty stent is often used in angina patients to open up blood vessels narrowed by plaque buildup.
In the latest study, researchers found that 16% of angina patients with implanted stents had a chance of heart attack or needed another procedure within two years of PCI. However, when the patients drank beetroot juice daily, the risk dropped to 7.5%.
The risk of stented blood vessel narrowing again due to a condition called restenosis was around 10% within five years of PCI. But the trial showed that stent failure can be considerably reduced with a daily intake of beetroot juice, thereby cutting down the chances of another PCI or more invasive coronary bypass surgery later.
When the width of blood vessels was measured six months after the procedure, the patients who had beetroot juice regularly showed only half as much narrowing as those who took the placebo treatment.
Inorganic nitrate present in beetroot juice is protecting the heart.
"Experiments in the lab suggested that the inorganic nitrate, which is found naturally in beetroot juice, would have these effects and it is very encouraging to see it create such a big improvement in the clinic for angina patients," said Krishnaraj Rathod, clinical senior lecturer at the William Harvey Research Institute, who led the trial.
"Our patients liked that their treatment was a completely natural product that has no significant side effects. We will now take this to the next stage of trials in the hope that doctors can soon prescribe beetroot juice to ensure stents last longer to provide even more effective relief of symptoms," Rathod added.
The findings of the trial, funded by the National Institute for Health and Care Research and the British Heart Foundation (BHF), were presented at the British Cardiovascular Society conference in Manchester, the U.K.
Article by Medical Daily.
------------------------------------------------------------------------------------------------
To learn more about heart disease and prevention and to earn cardiac related CE hours, Pedagogy offers the following courses:
Pedagogy's courses are available for purchase by the individual or facility. For individuals, register with us to create your username and password, click on the course title of interest and then click the Purchase button. For a complete listing of all our online continuing education courses, including the largest selection of infusion continuing education courses offered online, click here!
For organizations that would like to purchase education for their entire staff, email sales@pedagogyeducation.com and let us know the course(s) of interest and how many staff members you need to provide education for, and we will be happy to send you a price quote.