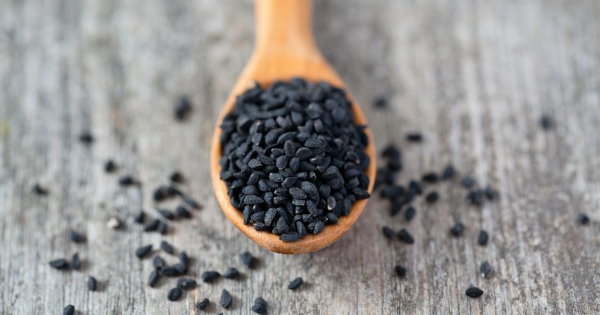 Black Seed: A Tiny Powerhouse for Cardiometabolic Health
Black seed -- also known as Nigella sativa -- is a flowering plant native to Asia and the Mediterranean, which has been used to make medicine for thousands of years.[i]
Some of the biggest benefits of black seed are its ability to lower metabolic factors that can lead to heart disease such as imbalances in cholesterol -- reduced high-density lipoprotein cholesterol (HDL), increased low-density lipoprotein (LDL) cholesterol -- or high triglycerides (TG), obesity -- particularly belly fat -- diabetes -- abnormal blood sugar or glucose levels -- and high blood pressure.[ii]
When three of these risk factors are present, the patient is described as having metabolic syndrome and a higher risk for cardiovascular diseases (CVD) like heart attacks and strokes.[iii]
Cholesterol Imbalances
High levels of LDL cholesterol and TG -- a blood fat -- encourage the accumulation of plaque, which can lead to heart disease.[iv] In a meta-analysis of 17 trials examining the effects of Nigella sativa oil on plasma lipid concentrations, scientists showed a reduction in total cholesterol, LDL cholesterol and TG levels, which suggests black seed's effectiveness in preventing heart disease.[v]
High triglycerides in the blood can lead to serious complications over time and is usually a part of metabolic disorders such as Type 2 diabetes, metabolic syndrome and dyslipidemia. In a review of medicinal plants, black seed, dill, turmeric and garlic were highly effective in balancing TG levels.[vi]
In past research, increased LDL cholesterol levels in the serum has been associated with high risk -- and increased HDL with a low risk -- for the development of atherosclerosis -- narrowing of the arteries due to plaque buildup of fat, cholesterol and other substances.[vii] In a study of rats fed a diet to cause cholesterol imbalances, black seed supplementation for 20 weeks resulted in a significant decrease in LDL and a strong increase in HDL cholesterol levels.[viii]
Obesity
In a meta-analysis of 13 studies, including 875 subjects, black seed supplementation significantly reduced body weight (BW) and body mass index (BMI) compared to a placebo.[ix]
In a study of 39 obese and overweight healthy women, participants were grouped to either receive black seed oil at a dose of 2,000 milligrams (mg) per day or a placebo for eight weeks separated by a washout period of four weeks. The iso-caloric diet -- a moderate-carbohydrate, moderate-fat diet that allows dieters to eat whatever they want as long as they consume the same amount of carbohydrates, proteins and fats daily[x] -- was followed by the women throughout the study.
Results showed favorable effects on overall CVD risk factors including increased HDL, reduced LDL, reduced ratio of total cholesterol to HDL (TC/HDL) cholesterol, reduced serum glutamic-oxaloacetic transaminase (SGOT)[xi] -- when elevated, this signals heart damage like a heart attack -- and reduced systolic blood pressure (SBP) but no effect on diastolic blood pressure (DBP).[xii]
In another study, 45 healthy women who were obese or overweight were randomized into two groups receiving either a black seed oil dose of 2,000 mg or placebo for two eight-week treatments separated by a washout period of four weeks. The black seed treatment decreased BMI, BW, waist circumference, body fat mass, body fat percentage (BF%), visceral fat area and appetite.
Black seed oil has been recommended as a suitable treatment to address health issues related to obesity or being overweight.[xiii]
Type 2 Diabetes
In a clinical trial, 43 patients with Type 2 diabetes (T2D) were grouped into 23 who received two 500 mg soft gel capsules containing Nigella sativa oil extract and 20 in the control group who received two placebo soft gel capsules with sunflower oil per day for eight weeks. Compared with the placebo, black seed oil significantly decreased fasting blood sugar (FBS), TC, TG, BMI, waist circumference, SBP and DBP.
Therefore, Nigella sativa oil exerted beneficial effects on glycemic control, serum lipid profile, blood pressure and body weight among those with T2D.[xiv]
Reviewing seven trials, researchers found that black seed oil supplementation significantly improved FBS, glycated hemoglobin (HbA1c) or blood sugar levels, TC and LDL and significantly reduced TG suggesting black seed oil may be an effective therapy to manage T2D complications.[xv]
High Blood Pressure
Twenty-six patients with high blood pressure were given an intervention of 2.5 milliliters (ml) of black seed oil and 29 subjects received a sunflower oil placebo twice daily for eight weeks. The intervention group had significantly reduced SBP levels compared to the baseline data and placebo group.
A significant decline was also observed in the levels of DBP, TC, LDL, malondialdehyde (MDA) -- a biomarker for oxidative stress and damage[xvi] -- and FBS in addition to a significant increase in the levels of HDL and glutathione reductase (GR) -- another biomarker of oxidative stress related to coronary heart disease.[xvii] Black seed oil showed regulating effects on blood pressure, blood sugar problems and lipid metabolism in these patients with no adverse side effects.[xviii]
In a high blood pressure-induced animal study, black seed oil prevented increases in SBP by reducing oxidative stress markers and is thought to be beneficial for managing high blood pressure.[xix]
Metabolic Syndrome and Disorders
Menopausal women are often more susceptible to metabolic syndrome. In a study of 20 menopausal women aged 45 to 60 years, participants were assigned into either a treatment group given black seed powder in the form of capsules at a dose of 1 gram (g) per day after breakfast or a control group given a daily placebo for a period of two months.
Blood glucose levels, TC, TG, LDL and HDL levels significantly improved providing evidence of black seed's protection to menopausal women against the risk of metabolic syndrome.[xx]
In 250 males who had metabolic syndrome, subjects were randomized into four treatment groups -- a black seed dose of 1.5 g per day, a turmeric dose of 2.4 g per day, a combination of 900 mg black seeds and 1.5 g turmeric treatment per day or a daily placebo for eight weeks. Black seeds reduced lipids and FBG, while turmeric reduced LDL cholesterol and C-reactive protein (CRP) compared to the placebo group.
CRP in your blood indicates inflammation in your body, and if your arteries are inflamed you have a greater risk of heart disease, heart attack, stroke and peripheral arterial disease.[xxi] However, the combination of both black seed and turmeric taken together as a treatment showed an improvement in all parameters from baseline, reducing BF%, FBG, TC, TG, LDL, CRP and raising HDL levels.[xxii]
Metabolic disorders often disturb intracellular metabolic processes that can affect the liver, kidneys, pancreas, cardiovascular system and endocrine system. In a literature review of medicinal plants, black seed, white tea and garlic all had beneficial effects on obesity, T2D and nonalcoholic fatty liver disease by their inhibition of lipid peroxidation, suppression of inflammatory reactions, balancing the lipid profile, reduction of adipogenesis -- fat accumulation -- and regulation of blood glucose levels.[xxiii]
Prevent Heart Disease and Metabolic Risk Factors
Current research is showing the powerful benefits of Nigella sativa -- the little black seed -- against metabolic risk factors and diseases that can increase your chances of getting heart disease.
Further scientific research affecting your cardiometabolic health can be found at GreenMedInfo.com's database on Nigella sativa (aka black seed), metabolic syndrome, metabolic diseases, cardiovascular disease prevention and black seed as a cardioprotective agent.
© 10/13/22 GreenMedInfo LLC. This work is reproduced and distributed with the permission of GreenMedInfo LLC. Want to learn more from GreenMedInfo? Sign up for the newsletter here //www.greenmedinfo.com/greenmed/newsletter.
------------------------------------------------------------------------------------------------
Pedagogy Education offers online continuing education courses in a variety of ways to meet your education goals and budget!
Courses may be purchased individually, or in packages (a bundle of courses, offered at a 10% discount). To view our entire catalog of education, click here. We offer a huge selection of infusion, vascular access, and state-specific IV "certification" courses!
We have annual memberships available to individuals or facilities who want to offer their staff access to a library of education for an entire year. Click here to view our Infusion and Vascular Access CE Membership. Facilities can visit our Annual Memberships to learn more about our nurse and nurse aide custom membership options and to view pricing!
Ready to purchase a course, package, or membership? Start here by creating your account! Want to receive our emails with notifications of new course releases and coupon codes good for discounts on courses? Sign up for our emails here. We would LOVE to have you join us on our social media pages, follow us on Facebook, Twitter, LinkedIn, Instagram, and Pinterest. Watch out for exclusive promo codes!
For organizations that would like to purchase education for their entire staff, email sales@pedagogyeducation.com and let us know the course(s) of interest and how many staff members you need to provide education for, and we will be happy to send you a price quote.