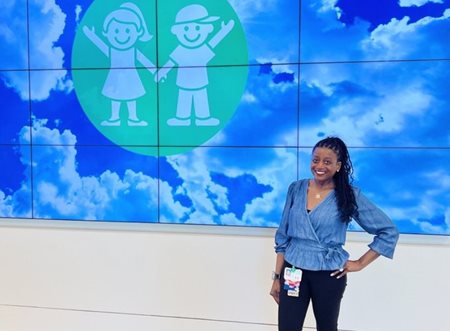 Atlanta Nurse Aids Unconscious Woman Mid-Flight
An Atlanta nurse is being praised for stepping up in a big way to help a stranger in need.
Rashon works as one of the nurses at Children's Healthcare of Atlanta's urgent care.
The hospital says that 10 minutes into a Delta flight, one of the women on the airline slumped over and became unconscious in her seat.
Rashon was sitting a few rows ahead and quickly jumped into action.
She says all she could think at the moment was: "Not today, not under my watch. We are going to keep you alive."
For the next hour, Rashon and another passenger worked together to keep the woman stable until the plane could land and medics could take over.
Amazingly, the hospital says this was the second time in just 24 hours that the nurse and recent cancer survivor stepped in to help a stranger.
"This is why I keep my nursing license and part-time nursing role. I don't ever want to lose my skill set," she told the hospital.
Her acts of kindness were shared on social media and were praised by both Children's Healthcare and Delta Air Lines, which tweeted that the airline was "incredibly thankful for people like Rashon whose hearts shine no matter where they go."
Article from Fox 5 Atlanta.
------------------------------------------------------------------------------------------------
Healthcare professionals are expected to recertify their BLS/CPR knowledge every 2 years to stay current with the standards of practice. Our online certification and recertification courses are designed to update healthcare professionals on the latest standards in Basic Life Support and Cardiopulmonary resuscitation, and strictly follows the guidelines and education criteria of the American Heart Association and the American Red Cross, as well as OSHA. We offer a nurse-specific CPR course as nurses are not allowed to receive continuing education contact hours for this course (except for in Nebraska).
Pedagogy's courses are available for purchase by the individual or facility. For individuals, register with us to create your username and password, click on the course title of interest and then click the Purchase button. For a complete listing of all our online continuing education courses, including the largest selection of infusion continuing education courses offered online, click here!
For organizations that would like to purchase education for their entire staff, email sales@pedagogyeducation.com and let us know the course(s) of interest and how many staff members you need to provide education for, and we will be happy to send you a price quote.