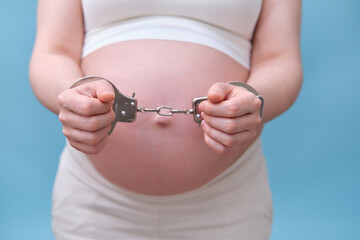 Addiction Help Available for Pregnant Inmates
To help protect unborn children, medically assisted treatment for opioid addiction is now available for pregnant inmates at the Graham County Jail through a local source.
The Graham County Board of Supervisors finalized the agreement with Community Medical Services at their December meeting, using the local clinic to assist inmates. Through this agreement, pregnant women suffering from opioid addiction now receive treatment and counseling while incarcerated at Graham County Jail.
Brian Douglas, Graham County Health Department director, said the agreement is advantageous for several reasons.
"Prior to this agreement, our pregnant inmates who suffered from Opioid Use Disorder (OUD) were transported to Maricopa County Detention Center for medication-assisted treatment (MAT)," Douglas said. "Because of this agreement, pregnant inmates who suffer from OUD are now treated locally and receive MAT services and counseling. We're motivated by providing these services because it's safer for the mother and the baby. In addition, it saves on transportation and staff costs."
Douglas said that to the best of his knowledge the agreement between the county and Community Medical Services will be ongoing. The services are at no cost to the county.
Roxana Brandt is the charge nurse at the Graham County Jail. She administers methadone, which is the medically-assisted treatment of opioid addiction. Brandt is a registered nurse and has been a charge nurse at the jail for almost seven years. Over the past year, there have been roughly three inmates who needed the treatment, Brandt said. Currently, there are no inmates at the jail receiving the methadone.
During treatments, Brandt gives a pregnant inmate a small cup with the liquid methadone syrup daily. The inmate drinks it, and Brandt supervises her for half an hour to ensure there are no side effects. After the treatment, the inmate is escorted back to her cell, she said.
"We do it for the baby because if the mother starts to withdraw, there are risks of miscarriage," Brandt said.
Whenever a woman is admitted to the jail, they are given a pregnancy test, Brandt said. If the woman is pregnant she is given several other tests to see if she is addicted to opioids and referred to Community Medical Services for further assessment.
"A couple of women have found out here in the jail that they're pregnant," Brandt said. "They're not happy they're pregnant, but we take care of the baby."
The women are generally happy to receive the treatment, Brandt said. While the pregnant women are at the jail they receive counseling through Community Medical Services. Also, the county jail arranges for them to have prenatal doctor visits.
"Because of drug use, these pregnancies are usually very high risk," Brandt said.
Allie Allison, manager for the Safford and Sierra Vista Community Medical Services clinics, said the services provided to the inmates is through an active memorandum of understanding (MOU).
An MOU is an agreement between two or more parties expressing a united will between them and a common course of action.
"We have no limits on how many clients we can see at the GCJ," Allison said. "And when the jail reaches out to us about a possible inmate who they feel could benefit from our services, we provide intake on demand currently to pregnant female inmates."
When an inmate completes an intake, they become a client of Community Medical Services, Allison said. As the inmate is treated, the clinic delivers the medication to the jail nurses, and medical provider and counseling visits are made available to the inmate through Telehealth, she said.
"The nurses at the jail are amazing!" Allison said. "We all work together to facilitate these tele visits with them and the client/inmate."
------------------------------------------------------------------------------------------------
For healthcare staff needing education on correctional healthcare, see our courses below:
Click here to see all of the correctional healthcare online continuing education we offer!
Check out our correctional nurse packages:
Pedagogy's courses are available for purchase by the individual or facility. For individuals, register with us to create your username and password, click on the course title of interest and then click the Buy Now button. For a complete listing of all our online continuing education courses, including the largest selection of infusion continuing education courses offered online, click here!
For organizations that would like to purchase education for their entire staff, email sales@pedagogyeducation.com and let us know the course(s) of interest and how many staff members you need to provide education for, and we will be happy to send you a price quote.