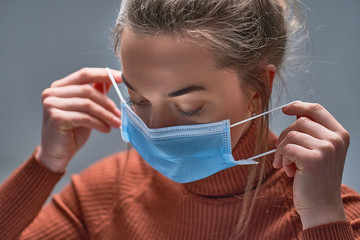 Teen Brains Aged Faster During Pandemic: A Study
A new study suggests that pandemic-related stressors accelerated the physical aging of adolescents' brains.
The study from Stanford University, published in the peer-reviewed journal Biological Psychiatry: Global Open Science, demonstrates that these stressors made teenagers' brain structures appear several years older than the brains of comparable peers before the pandemic.
"We already know from global research that the pandemic has adversely affected mental health in youth, but we didn't know what, if anything, it was doing physically to their brains," Ian Gotlib, the Marjorie Mhoon Fair Professor of Psychology in the School of Humanities & Sciences, who is the first author on the paper, said in a press release.
Researchers compared MRI scans of 163 children taken before and during the pandemic. They found that the developmental process sped up in adolescents as they experienced the COVID-19 lockdowns.
Before the pandemic, such accelerated changes only appeared in children who have experienced chronic adversity, including violence, neglect, family dysfunction, or a combination of multiple factors.
Dr. Gotlib says it is unclear if these changes in brain structure are linked to changes in mental health and whether they are permanent.
According to the study's co-author Dr. Jonas Miller, these changes in the brain might have serious consequences later in life.
"Adolescence is already a period of rapid reorganization in the brain, and it's already linked to increased rates of mental health problems, depression, and risk-taking behavior," he said.
With the end of the pandemic "in sight," as the World Health Organization says, researchers are examining its impacts on our health.
A recent study that looked into personality changes during the pandemic found that in 2021–2022 extraversion, openness, agreeableness, and conscientiousness slightly declined, especially in young adults under 30. Researchers say this is equivalent to the changes that normally happen in a decade.
Researchers in Italy surveyed 500 adolescents aged 12-18 during the third lockdown in 2021. Four in ten (41%) respondents reported feeling more stress than during the first lockdown, while 1 in 5 (21%) showed isolated symptoms of acute or post-traumatic stress due to the pandemic.
Original article
by healthnews.com.
—------------------------------------------------------------------------------------------------
If you would like to learn more about mindfulness and mental health, check out the following courses:
Our courses are available for purchase by the individual or facility. For individuals, register with us to create your username and password, click on the course title of interest and then click the Buy Now button. For a complete listing of all our online continuing education courses click here.
For facilities or organizations that would like to purchase education for their staff, email sales@pedagogyeducation.com let us know the course(s) of interest and how many staff members you need to provide education for, and we will be happy to send you a price quote!