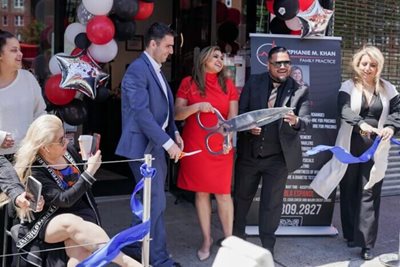 Queens Nurse Relocates Medical Office in Hopes to Inspire Fellow Nurses to Start Their Own Practice
Stephanie M. Khan Family Practice
in Forest Hills celebrated the opening of its new office at 110-78 Queens Blvd. with a ribbon-cutting ceremony last week.
George Hadjiconstantinou (Left) from Queens Chamber of Commerce Strategic Program Manager. Stephanie Khan (Middle). Angelina Puchayev (Right), Next to Luis Gonzalez General Manager. Surrounded by family, friends and colleagues.
​
Originally from Howard Beach, Stephanie Khan first started working in Forest Hills as a nurse practitioner during the COVID-19 pandemic in early 2020. During this time, Khan quickly became a popular presence in the community, offering home care services and vaccines to older adults in the area.
Now Khan's focus has expanded to the rest of the community as they navigate their personal health journeys. Khan's practice offers a wide range of services from COVID-19 testing and annual physicals to telemedicine, IV infusions and injections therapy, medical marijuana, and more.
"She wants to focus on educating the community at large about their chronic illnesses, disease process, how treatments and lifestyle changes play a vital role in their well-being," read a statement from the practice.
Khan received her undergraduate degree from Molloy University in Rockville Centre in 2012. Soon after graduation, she began work as a registered nurse at NYU Langone Health in New York City. In 2017, she started working there as a nurse practitioner where she still continues practicing.
In relocating her practice from its previous location at 110-50 Queens Blvd., Khan hopes to inspire others to serve their communities.
"She would like to see future nurses and nurse practitioners empowered to follow her steps in being independent providers that will better serve and enhance the health and well-being of the community," the practice's statement continued.
For more information, call Stephanie M. Khan Family Practice at (718) 309-2827.
Article
by QNS.com.
------------------------------------------------------------------------------------------------
Nurse entrepreneurship is not a new concept, but it is perhaps intimidating and a foreign concept to many nurses. If you could package your professional nursing knowledge and expertise, incorporate sound legal and business principles, and build a successful business all on a flexible schedule, how would that feel?
Our online CNE course, Becoming an Independent Nurse Consultant, is for the nurse who wants to become a business owner capitalizing on their nursing and healthcare practice, skill, and knowledge, but has no idea where to start. This course will offer step-by-step suggestions for how to become an independent nurse consultant, including name selection, establishing legal entities, tax consequences, establishing an office, website, and payment options, as well as funding options. This resource will also guide you on a successful path to entrepreneurship by teaching you to brand your business, write your mission statement, and state your values and guiding principles. Are you ready for success?