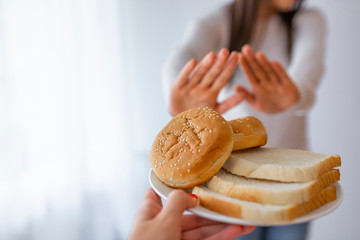 Potential New Drug for Celiac Disease Hopes to End Harmful Response to Gluten
A new treatment for celiac disease that targets the liver's ability to clear harmful substances from the blood has shown promising results in an early phase of clinical trials, according to results presented on May 24th at Digestive Disease Week (DDW).
The drug, KAN-101, is focused on restoring normal immune tolerance of gluten by targeting specific receptors on the liver, setting off a cascade of events that re-teach the immune system not to respond to gluten. Unlike broad immunosuppressants, KAN-101 targets only the part of the immune system that drives celiac disease. It is being developed by Anokion, a clinical stage bio-tech company focused on improving the treatment and outcomes of autoimmune disease.
KAN-101 is designed to deliver proteins in an immune tolerance pathway in the liver, leveraging the natural process routinely performed in the liver. One of the liver's functions is to clear dying cells without causing inflammation.
Results of phase 1 of the study, called the ACeD (Assessment of KAN-101 in Celiac Disease), show that KAN-101 induced T-cell tolerance of gliadin, the harmful component of gluten, in study participants after they were given a gluten challenge.
KAN-101 also controlled the broader immune response to the gluten challenge, preventing gluten-induced Interlukin-2 (IL-2) response at higher doses and blunting CD8 T-cell responses, said Joseph Murray, MD, of the Mayo Clinic and lead investigator in the ACeD trial. Murray presented the early results at DDW. DDW is an annual conference for physicians, researchers and academics in the fields of gastroenterology, hepatology, endoscopy and gastrointestinal surgery.
"Celiac disease is a chronic autoimmune disorder in which gliadin-specific T cells drive an inappropriate immune response to gluten peptides that can result in severe, life-altering symptoms and long-term gut damage," Murray said. "By inducing immune tolerance of these cells in patients, KAN-101 has the potential to offer a durable, disease-modifying treatment for celiac disease."
Additionally, the drug was found to be both safe and well-tolerated in study participants with celiac disease at all dose levels evaluated.
Study design
Study participants, adults with celiac disease who had been on the gluten-free diet for at least one year, were divided into two groups. In the first, 14 participants were given as single dose of varying amounts of KAN-101, mainly to test the safety of the drug.
In the second group, 27 study participants were randomized to get KAN-101 three times at one of three doses or a placebo. This was followed one week after all doses were complete by gluten challenge of 9 grams of vital wheat gluten on three consecutive days.
The study then looked at several biomarkers to determine how participants in the first group were responding to KAN-101 and how those in the second group were responding to the drug and the gluten challenge. Investigators were looking to see if study participants had gluten specific T-cells that reacted and expanded due to the gluten challenge. They found that those who received the placebo had a T-cell response. Meanwhile, in those who received KAN-101, the response was absent.
IL-2 response
IL-2 response, which in previous studies has been found to be detectable in the blood within hours of gluten exposure, was also measured. IL-2 is a cytokine signaling molecule in the immune system. Previous research has shown a correlation between IL-2 and symptoms in celiac disease patients, including nausea and vomiting.
Those who have celiac disease often report that symptoms occur with two to three hours of an accidental gluten exposure, Murray said, noting that there is some suggestion that the magnitude of the IL-2 response that occurs acutely may correlate with the symptoms.
In the placebo group, all participants had a significant increase in IL-2 response to the first gluten challenge. With increasing doses of KAN-101, the IL-2 response was blunted, Murray said. At the highest dosage of KAN-101, in four of six study participants, the immediate IL-2 immune response was blocked.
The study also looked at CD8 killer T-cells, which are the cells that do damage to the lining of the intestine in celiac disease. Study participants who were given the placebo had an increase in these cells following the gluten challenge. "This effect is blunted or blocked completely by KAN-101 in increasing doses, "Murray said.
KAN-101 is designed as an an intravenous infusion that would be administered over several days for a period of a few weeks. It is intended to protect against gluten exposure for a period of time that remains to be determined in future studies. It would be used in addition to the gluten-free diet to protect against inadvertent gluten exposure.
"We are thrilled with the totality of data generated with KAN-101 in the ACeD trial," said Deborah Geraghty, Ph.D., chief executive officer of Anokion. "We are particularly struck by the statistically significant reductions in gluten-induced plasma IL-2, which we believe represent the first-ever dose-dependent effect on this important disease biomarker." Anokion plans to move into a Phase 2 clinical trial in the second half of the 2022.
Beyond Celiac helped Kanyos Bio, a subsidiary of Anokion, recruit for this study as a part of its commitment to accelerating research.
Original article
from beyondceliac.org.
------------------------------------------------------------------------------------------------
Pedagogy author, Brooke Lounsbury, has written two online continuing education classes that are great resources for digestive health and probiotics. Click on the course links below to view the full course descriptions.
Pedagogy's courses are available for purchase by the individual or facility. For individuals, register with us to create your log in and password, click on the course title of interest and then click the Buy Now button. For a complete listing of all our online continuing education courses, including the largest selection of infusion continuing education courses offered online, click here!
For organizations that would like to purchase education for their entire staff, email sales@pedagogyeducation.com and let us know the course(s) of interest and how many staff members you need to provide education for, and we will be happy to send you a price quote.