New York City Marathon: Runner with Stoma Withdraws Over Bag Rules
A woman has pulled out of running the New York City Marathon after organisers said she could not wear a vest carrying supplies for her stoma and water.
Gayle Redman, a GP from Flint, Flintshire, said the vest had allowed her to safely run marathons in London and Paris.
She said she believed she had been discriminated against.
New York Road Runners (NYRR), which organises the race, said the vest did not adhere to rules set by police.
Gayle has a stoma and needs to self-catheterise six times a day following surgeries for endometriosis.
A stoma connects to the digestive or urinary system and allows waste to be diverted from the body and into a bag.
Gayle has found certain aids to help her race and has competed in numerous events over the last decade.
"New York Marathon's been on the bucket list for quite some time," she said.
She recalled her delight when an email arrived six months ago saying she had been registered as a disabled competitor for the 2023 race.
She sent organisers pictures of her vest, which has pouches on the back for a 1.5 litre water bag and a straw so she can drink continuously, as her condition makes her susceptible to dehydration.
The vest also has a pocket on the back where she carries supplies for her stoma.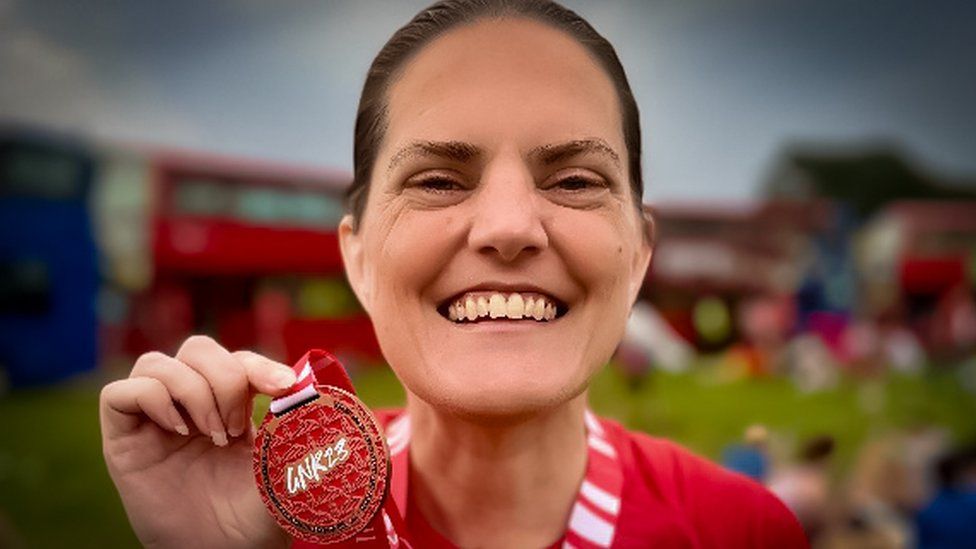 IMAGE SOURCE: GAYLE REDMAN
Gayle most recently ran the the Great North Run 2023, a half marathon in Newcastle.
"I carry huge volumes of fluids when I go out on my really long training runs," she said.
On a competition day the supplies she carries in her vest is all she will have for up to 13 hours.
But Gayle was told by the NYRR that only waist belts would be allowed, a type of aid that would affect her stoma.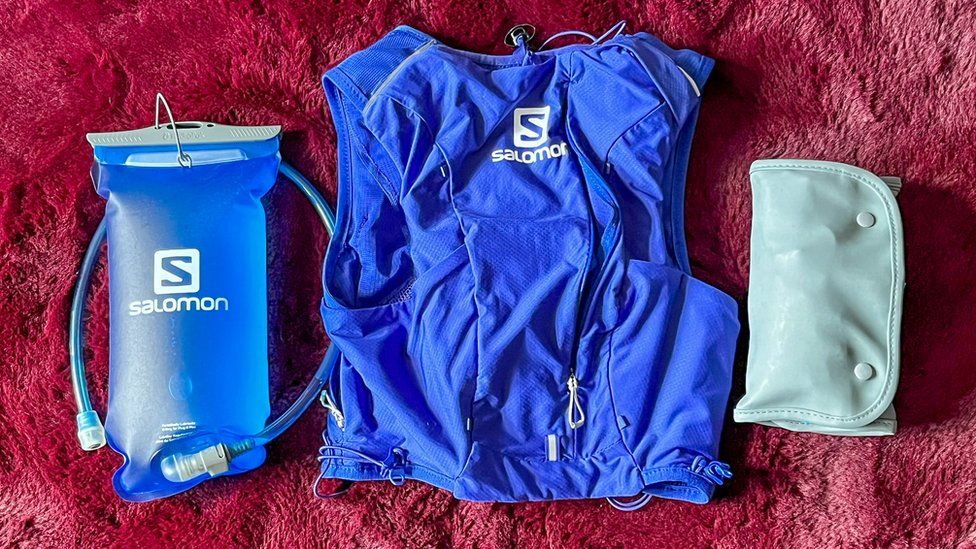 IMAGE SOURCE: GAYLE REDMAN
Gayle sent pictures of the vest, water bag and medical supplies kit to the race organisers.
"I emailed them again and said this is a disability issue, this is really important," she said. "I can't take part if we can't figure something out."
The organisers sent her a type of clear ruck sack for carrying water, but she said it would not work because it had no room to carry stoma supplies.
Eleven days before the race she got another email saying she could use front water bottles in a vest, but nothing about where she could carry her stoma supplies.
She said she was left with no choice but to cancel the trip, losing £500 in entry fees that she and her husband paid to run in the race.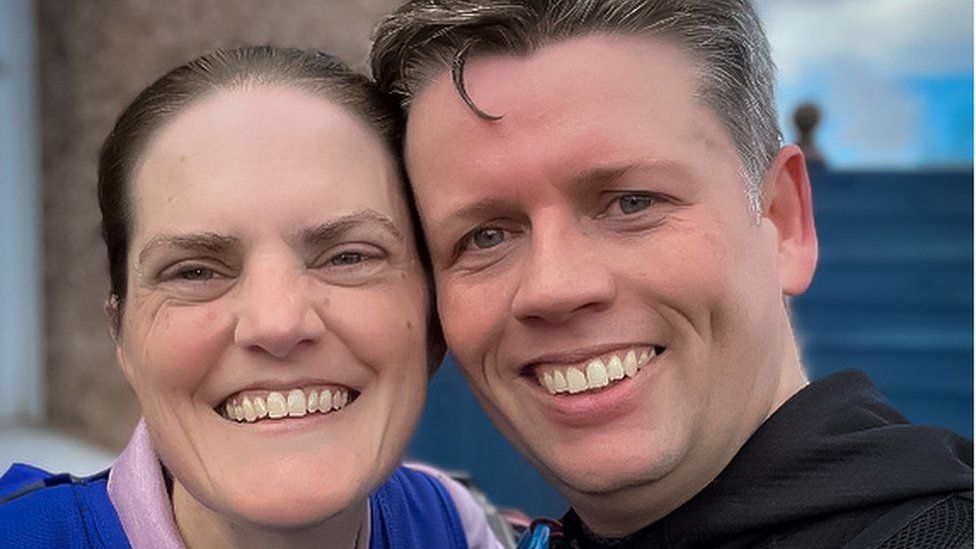 IMAGE SOURCE: GAYLE REDMAN
Gayle says she and her husband Tim, who is also a disabled runner, have lost £500 in entry fees
"I'm disappointed that they couldn't find a way of including me," she said. "I feel like I've been discriminated against.
"I've got a disability that is recognised... the Equality Act in the UK, and as far as I can tell the Americans with Disabilities Act (ADA) is very similar, says that reasonable accommodations should be made.
"I have gone out of my way to try to meet them halfway and see what I can do.
"They've made accommodations, but they're not accommodations that suit me."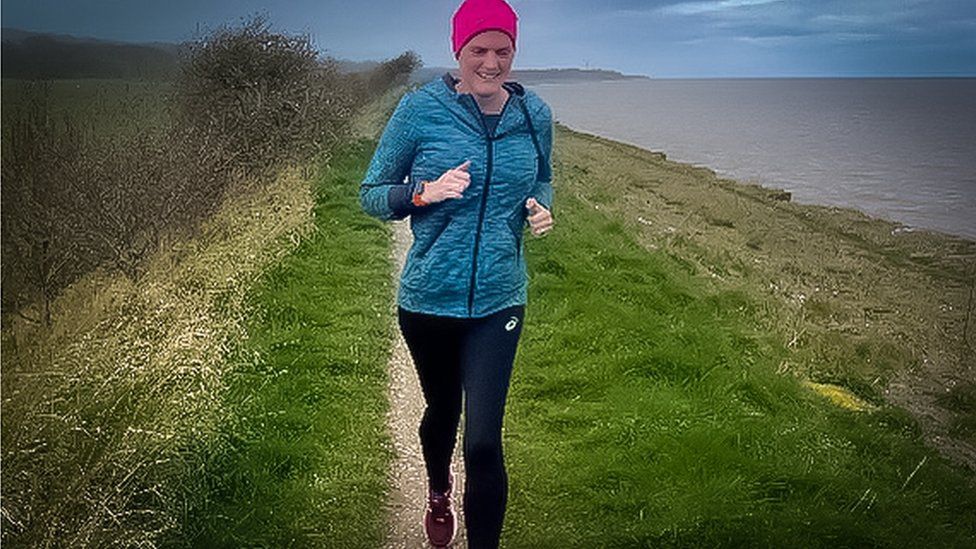 IMAGE SOURCE: GAYLE REDMAN
Redman says she feels like she has been "discriminated against"
NYRR said in a statement: "We work with intention to provide reasonable accommodations in accordance with local laws and federal ADA guidelines to ensure runners of all abilities have access to our races while making sure that each and every runner, spectator, volunteer and staff member are safe."
It said it went "above and beyond to provide this runner with options including purchasing two hydration packs for her, in addition to our 20 course-based hydration stations".
"It is unfortunate that her requests didn't align with local law enforcement restrictions and that she has chosen not to join us this year," the organisers said, pointing to hydration vests being on a prohibited items list.
Gayle said she understood the concerns about security after three people were killed and 260 injured in the Boston Marathon bombing.
"I would have quite happily had a conversation with New York Police Department about what their concerns are," she said.
"I've repeatedly asked [NYRR] what other suggestions they have to help me with this, and they've not come forward with anything."
So will she be watching the NYC Marathon on television this Sunday?
"No," she said, because it is "all a bit too raw right now".
"We're already exploring what we can do in the next few weeks to get into another marathon that will welcome us and accommodate us," she said.
"The reality is [on the day of the race] we'll probably go out and do a long run."

Article from BBC.com.
------------------------------------------------------------------------------------------------
For healthcare professionals wanting to learn more about wound care, view our wound care courses below:
Our courses are available for purchase by the individual or facility. For individuals, register with us to create your username and password, click on the course title of interest and then click the Purchase button. For a complete listing of all our online continuing education courses click here.
For facilities or organizations that would like to purchase education for their staff, email sales@pedagogyeducation.com let us know the course(s) of interest and how many staff members you need to provide education for, and we will be happy to send you a price quote!