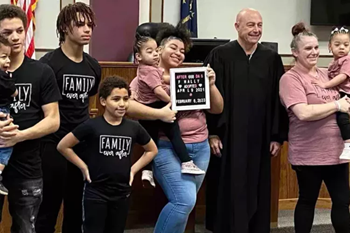 NICU Nurse with 5 Kids Adopts Teen Mom She Cared for After Giving Birth to Triplets
An Indiana neonatal nurse and mother of five has adopted a teen mom who was in her care after giving birth to triplets.
Katrina Mullen, 45, adopted Shariya Small, 17, on Feb. 6 — more than two years after the pair met during Small's pregnancy, according to Today.
The Indianapolis Star was first to report the news in March.
"Has it been easy? No! She pushes limits just like any other teenager," Mullen recently told Today. "But I love her. I'm her mom — and I'm never going anywhere."
Small was in the 8th grade when she gave birth to Serenitee, Samari and Sarayah in 2020, per the report. She was treated at Community Hospital North in Indianapolis, where Mullen works as a nurse.
At first, Small did not want to open up about her life, per the report. But the teen mom eventually developed a special bond with Mullen, who said the new mom would be "alone for days at a time sitting at her babies' bedside."
The triplets spent more than five months in the neonatal intensive care unit (NICU) at Community Hospital North, Today reported. Before they were discharged, Mullen gave Small her phone number and encouraged her to call if she needed anything.
The two kept in touch, and Mullen eventually visited Small at her home in Kokomo. That's when the nurse realized the reality of Small's situation — she was sleeping on a couch, and her children were sleeping together in a playpen.
"It was not a place for her to raise babies," Mullen told Today.
Mullen also noticed that one of the babies, Samari, did not seem well, per the report. He was later hospitalized and diagnosed with failure to thrive, a condition related to infants or children being underweight for their age.
A case worker from the Department of Social Services later called Mullen and informed her that Small and the babies were being removed from the home they were living in, and that Small had requested to live with Mullen.
"I just kept thinking, 'I have to do this.' I knew Shariya was intelligent and resilient and she just needed a safe place to put her roots," Mullen told Today. "I knew it would be hard, but we'd figure it out."
For 688 days, according to Today, Mullen fostered Small and her three children in the home she shares with her three younger children, SeQuayvion, 16, ShaKovon, 14, and JJ, 7.
Small eventually graduated from alternative high school, and learned all she could from Mullen about caring for her children, according to the outlet.
Two months ago, Mullen's adoption of Small was finalized. Mullen has also adopted her 2-year-old triplets, according to the reports.
To help "build a financial cushion" for her children, Mullen has created a GoFundMe campaign. More than $35,500 has been raised through the fundraiser since it launched.
Mullen hopes to use some of the money for Small's "future college experience and adventures this coming fall," per a description on the fundraising page.
According to Today, Small is interested in exploring a career in social work.
"I'm so proud to be Shariya's mom," Mullen told the outlet. "She just amazes me every day."
Article by People.com.
----------------------------------------------------------------------------------------------------------------------
Want to learn more about different aspects of nursing care for pregnant and postpartum patients? Click the linked text below to view each course's description page:
Our courses are available for purchase by the individual or facility. For individuals, register with us to create your username and password, click on the course title of interest and then click the Purchase button. For a complete listing of all our online continuing education courses click here.
For facilities or organizations that would like to purchase education for their staff, email sales@pedagogyeducation.com let us know the course(s) of interest and how many staff members you need to provide education for, and we will be happy to send you a price quote!