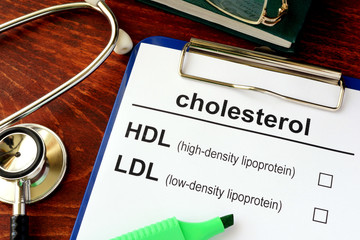 High and Low HDL Cholesterol Levels Linked to Risk of Dementia
High and low levels of high-density lipoprotein cholesterol (HDL-C) but not levels of low-density lipoprotein cholesterol (LDL-C) are associated with an increased risk for dementia in older adults, a new study found.
METHODOLOGY:
Electronic health record and survey data on 184,367 Kaiser Permanente Northern California participants (median age 69.5 years) with no history of dementia were taken.

Cholesterol levels were measured within 2 years of survey completion.
TAKEAWAY:
There were 25,214 incident cases of dementia reported over an average follow-up of 8.77 years.

Dementia risk was significantly higher in people with low HDL-C (11-41 mg/dL; adjusted hazard ratio [aHR], 1.07; 95% CI, 1.03-1.11) and high HDL-C (> 65 mg/dL; aHR, 1.15; 95% CI, 1.11-1.20).

The study demonstrates an association between low and high levels of "good" cholesterol but not a causal link.

There was no significant association between LDL-C and dementia risk.
IN PRACTICE:
"These results support the conclusion that some lipoproteins may be modifiable risk factors for dementia, even in late life," the authors write.
SOURCE:
The study was conducted by Erin L. Ferguson, MPH, Department of Epidemiology & Biostatistics, University of California, San Francisco, California, and was funded by the National Institutes of Health. It was published online October 4, 2023 in Neurology.
LIMITATIONS:
There were no adjustments for APOE status and confounding and selection bias.
Article from medscape.com.
------------------------------------------------------------------------------------------------
For healthcare professionals wanting to learn more about Alzheimer's, dementia, and treatments consider these online continuing education courses:
Pedagogy's courses are available for purchase by the individual or facility. For individuals, register with us to create your username and password, click on the course title of interest and then click the Purchase button. For a complete listing of all our online continuing education courses, including the largest selection of infusion continuing education courses offered online, click here!
For organizations that would like to purchase education for their entire staff, email sales@pedagogyeducation.com and let us know the course(s) of interest and how many staff members you need to provide education for, and we will be happy to send you a price quote.