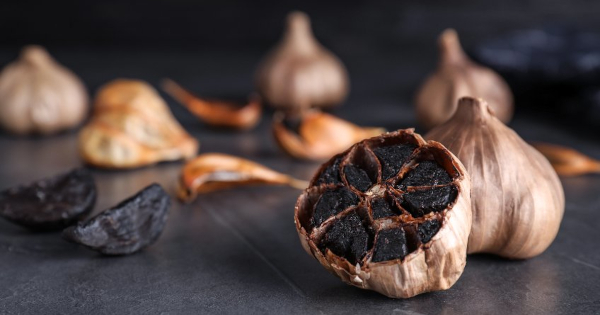 Aged Garlic Extract for Heart Health
If you had to take only ONE supplement for heart health, look no further than your good friend, garlic!
With garlic's long history of use as traditional medicine, the health benefits of garlic are well known to both healers and the health conscious. Hippocrates himself is believed to have prescribed garlic for ailments like parasites, digestive problems and fatigue, among other maladies.
In modern times, therapeutic uses for garlic have been studied for a wide range of health concerns, including inflammation, high blood pressure, diabetes, bacterial infection and cancer, with mounting evidence supporting what the ancients knew long ago.
Garlic's Potent Health Properties
Traditional healers have long known what science is now substantiating through rigorous clinical trials: garlic has potent anti-disease properties. A 2020 study on the effects of aged garlic extract on atherosclerosis, or hardening of the arteries, sought to evaluate whether this potent form of garlic can influence coronary artery calcification.[i] In other words, can garlic be an effective therapy to help prevent heart disease? The answer may surprise you.
Cardiovascular disease (CVD) kills 17.9 million people every year and is the number one cause of death, worldwide.[ii] Cardiac researchers at Sweden's Skåne University recruited 104 patients showing early signs of coronary artery calcification (CAC) for inclusion in a double-blind clinical trial on the effects of aged garlic extract on the progression of heart disease.
Aged Garlic Extract's Anti-Plaque Effects
Researchers sought to develop a predictive model for identifying patients whose heart disease and systolic blood pressure progression would benefit from aged garlic extract (AGE) supplementation.
After cardiac imaging scans confirmed the presence of early-stage CAC, participants were randomized into active or control groups. Patients were asymptomatic at the time of the study and were otherwise healthy with no history of heart attack, heart failure or other advanced disease.
Participants in the active group were prescribed 2,400 milligrams (mg) per day of Kyolic® Reserve Formula aged garlic extract, with two 600-mg capsules consumed twice daily for a period of 12 months. The control group consumed placebo capsules on the same schedule.
Patients were medically evaluated before, during and after the trial, with measurements of blood pressure and body mass index (BMI), electrocardiogram (ECG) scans and blood samples analyzing total cholesterol, lipoproteins, triglycerides, blood sugar and other heart-health indicators. Coronary arteries were thoroughly imaged and calcium plaque scores were assessed with special software. Cardiac CT scans were performed at zero and 12 months.
Garlic Supports Healthy Blood
At the study kick-off (baseline), there were no significant differences in CVD risk factors across both groups. The majority of patients were taking medication for high blood pressure and high cholesterol upon entering the study, which they continued to take throughout the duration of the year-long trial.
At baseline, the placebo group had a higher BMI than the active group, however, the active group had a significantly higher CAC score, as well as higher cholesterol and LDL levels.
Since CAC is a progressive disease, researchers expected arterial calcification to progress in both groups, which was indicated by the results. However, patients taking AGE experienced significantly less disease progression than those in the placebo group over 12 months (AGE=20%; CONTROL=28%). Patients taking aged garlic also showed significantly lower systolic blood pressure at the 12-month follow-up than those in the control group.
The data further showed that AGE had a beneficial effect on inflammation and a glucose-lowering effect.[iii] Researchers concluded that aged garlic supplementation alone reduces the progression of cardiovascular disease so significantly that disease protection is three-fold greater for individuals taking AGE.[iv]
Aged Garlic Extract: A Powerful Antioxidant
A quick scan of GreenMedInfo.com's research database reveals 322 diseases that have been researched for garlic's health benefits. From the daily impacts of oxidative stress to diseases like cancer and diabetes, garlic is a well-tolerated, natural supplement that imbues remarkable protections to the body.
As the feature study demonstrates, aged garlic extract, a commonly available and inexpensive supplement, has significant evidentiary support as an aid against arterial calcification.
For those individuals who are also managing diabetes, garlic may provide additional high-value support. A 2019 meta-analysis of 33 garlic studies showed that garlic was more effective than placebo in reducing blood lipids, including triglycerides, all cholesterols and fasting blood sugar.[v]
The Singular Supplement: Aged Garlic Extract
Garlic extract has been clinically shown to exert a range of beneficial effects on human health. Garlic's usefulness for cancer has been studied in human trials and laboratory settings. Vegetables in the allium family, including garlic, onions, leeks, chives and shallots, are known to exhibit anticancer properties.[vi]
A common comorbidity, obesity is another condition that can benefit from garlic supplementation. A 2018 study found that garlic extract boosts endothelial function, a key regulator of heart activity, and exhibits a strong anti-inflammatory effect that helps to suppress the chronic inflammation caused by obesity.[vii]
When it comes to supplementation, aged garlic extract contains the highest amount of active phenolic, flavonoid, and flavonol compounds, imbuing AGE with the greatest antioxidant activity.[viii] The process of aging garlic converts the harsher, potentially irritating compounds found in raw garlic into these powerful antioxidants.[ix] This process also allows high-quality, organic garlic supplements to be well-tolerated by most individuals.
To learn more about the powerful health benefits of garlic, consult GreenMedInfo.com, the world's most widely referenced, evidence-based natural medical resource.
© [07/26/2022] GreenMedInfo LLC. This work is reproduced and distributed with the permission of GreenMedInfo LLC. Want to learn more from GreenMedInfo? Sign up for the newsletter here //www.greenmedinfo.com/greenmed/newsletter.

------------------------------------------------------------------------------------------------
To learn more about heart disease and prevention and to earn cardiac related CE hours, Pedagogy offers the following courses:
Pedagogy's courses are available for purchase by the individual or facility. For individuals, register with us to create your username and password, click on the course title of interest and then click the Buy Now button. For a complete listing of all our online continuing education courses, including the largest selection of infusion continuing education courses offered online, click here!
For organizations that would like to purchase education for their entire staff, email sales@pedagogyeducation.com and let us know the course(s) of interest and how many staff members you need to provide education for, and we will be happy to send you a price quote.