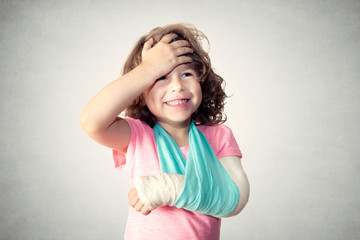 Ultrasound 'Breaks' New Ground for Arm Fractures in Children
Portable ultrasound devices could provide an alternative to x-ray machines for diagnosing forearm fractures in children in a move that could alleviate waiting times for families in hospital emergency departments (ED).
Griffith University researchers Professor Robert Ware from the Menzies Health Institute Queensland and Senior Lecturer Peter Snelling from the School of Medicine and Dentistry compared functional outcomes in children given an ultrasound and those who received an x-ray on a suspected distal forearm fracture.
Dr Snelling said the ultrasounds were performed by nurses, physiotherapists and emergency physicians at four south-east Queensland hospitals.
"They treated 270 children, aged between five and 15 years, during the randomised trial, which included a check-up 28 days later and another check-in at eight weeks," Dr Snelling said.
"The findings show the majority of children had similar recoveries and returned to full physical function."
Less than one-third of children who were given an ultrasound needed a follow-up x-ray and care at an orthopaedic clinic.
Those who didn't have a buckle fracture or fractured arm were discharged from hospital without the need for further imaging.
Professor Ware said children who had an ultrasound initially had fewer x-rays, and shorter stays in the ED.
"Families were also more satisfied with the treatment they received," he said.
"The results are promising and have wider implications beyond in hospital diagnosis and follow up care.
"By using a bedside ultrasound, this frees up the x-ray machine for patients who really need it and can potentially be a cost-cutting measure for hospitals as they reduce the number of x-rays without comprising the safety of patients.
"It also would be extremely beneficial in rural or remote areas eliminating the need for children and their families to travel to a larger hospital for an x-ray."
Dr David Bade, Queensland Children's Hospital Director of Orthopaedic Surgery said: "This research will allow us to achieve a more efficient diagnostic and treatment service for these common injuries, not only in big tertiary hospitals but possibly also in smaller regional and even rural centres, where there can be a delay for X-ray diagnosis.
"Collaborative research such as this, allows us to tackle such health inequality in a small but meaningful way."
Professor Hugh Grantham ASM, Emergency Medicine Foundation Chair said: "This is a great example of emergency medicine research at its best: identifying practical, translatable interventions that provide immediate positive outcomes for patients, and help relieve the burden on our hospitals and health system." ?
The research was funded through grants from the Emergency Medicine Foundation, Wishlist Sunshine Coast Hospital Foundation, Queensland Advancing Clinical Research Fellowships and the Gold Coast Health Study Education and Research Trust Fund.
Dr Snelling is a practicing Paediatric Emergency Physician Gold Coast Hospital and Health Service, which offered two of the sites where the study was undertaken.
The paper 'Ultrasonography or x-ray for suspected paediatric distal forearm fractures' has been published in the New England Journal of Medicine.

Article from Science Daily.

------------------------------------------------------------------------------------------
Pedagogy Education offers online continuing education courses in a variety of ways to meet your education goals and budget!
Courses may be purchased individually, or in packages (a bundle of courses, offered at a 10% discount). To view our entire catalog of education, click here. We offer a huge selection of infusion, vascular access, and state-specific IV "certification" courses!
We have annual memberships available to individuals or facilities who want to offer their staff access to a library of education for an entire year. Click here to view our Infusion and Vascular Access CE Membership. Facilities can visit our Annual Memberships to learn more about our nurse and nurse aide custom membership options and to view pricing!
Ready to purchase a course, package, or membership? Start here by creating your account! Want to receive our emails with notifications of new course releases and coupon codes good for discounts on courses? Sign up for our emails here. We would LOVE to have you join us on our social media pages, follow us on Facebook, LinkedIn, Instagram, and Pinterest. Watch out for exclusive promo codes!