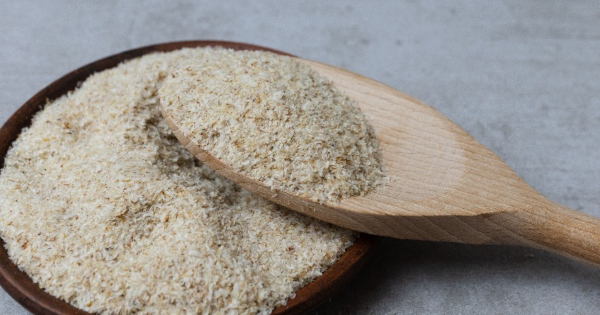 The Digestive Benefits of Psyllium Husk
Dietary fiber is essential for good health, but the sad truth is most Americans are not getting enough of it. Research suggests that as few as 5% of U.S. adults are meeting recommendations for fiber intake, leaving a whopping 95% at increased risk of heart disease, obesity, high blood pressure, stroke, cancer and other diseases as a result.[i]
Dietary fiber plays an important role in good health, helping to maintain healthy bowels and normalize bowel movements, balance cholesterol levels and regulate blood sugar. Fiber makes you feel fuller and getting enough daily fiber can help you maintain a healthy body weight and live a longer life.[ii]
One reason that you may not be getting enough fiber is confusion as to what dietary fiber is, and how to get the recommended 20+ grams[iii] into your daily diet. Basing meals around organic, whole fruits and vegetables and other whole foods is a great place to start.
Psyllium Husk: A Multipurpose Fiber
One of the best ways to supplement your daily intake of dietary fiber is with psyllium husk. Psyllium husks are the fibrous outer layer surrounding seeds of the psyllium plant, Plantago ovata. Psyllium husk supplements form nondigestible mucilage that turns gelatinous when combined with water, swelling and holding moisture in the intestines, which helps transport waste through the intestinal tract, among other digestive benefits.
A form of soluble fiber, psyllium husk dissolves in water to form a gel that your body can't digest or absorb. Because of psyllium husk's slow movement through the body, it is often used in gentle, bulk-forming laxatives.
Psyllium husk in the gut slows the absorption of sugars into the bloodstream after a meal, which can help regulate blood sugar levels.[iv] It also traps bile and cholesterol, preventing reabsorption, which can help keep cholesterol balanced for optimal heart health.[v]
Psyllium Husk Relieves Chronic Constipation
Chronic constipation is a common gastrointestinal concern, particularly among the elderly, that may be greatly improved through regular use of psyllium husk. Studies on psyllium husk's laxative effects have identified changes to gut microbiota as a key mechanism, and a 2021 study drilled down on these effects in younger subjects.
Published in the journal Aging, the study used rRNA gene sequencing to analyze gut microbiota in a cohort of chronically constipated women of reproductive age.
The study investigated the effects of psyllium husk supplementation on the gut microbiota of 54 women, aged 15 to 49, who were experiencing symptoms of constipation including infrequent and/or painful bowel movements, hard stool, incomplete defecation and a feeling of blockage in the intestines.
Subjects were sorted into two groups with balanced and comparable baseline data, with one group receiving psyllium husk treatment, while the other group was given a placebo, for a period of four weeks.
Results showed significant differences between the psyllium husk group's and placebo group's outcomes. Psyllium supplementation relieved straining and pain associated with bowel movements and increased the number of weekly bowel movements.[vi]
Psyllium produced softer stools and alleviated feelings of incomplete defecation.[vii] Although not statistically significant, fewer participants in the psyllium group reported a feeling of blockage after the study period.[viii] Overall, psyllium husk treatment was well-tolerated with no serious adverse events reported.[ix]
Psyllium Improves Gut Microbiota
Multiple studies have shown that gut microbiota play a significant role in chronic constipation, prompting researchers to conduct an important secondary analysis of fecal microbiota using 16S ribosomal ribonucleic acid (rRNA) gene sequencing.[x] The research group was looking for clues in the "microbial community structure" to unlock psyllium's therapeutic actions.
Sequencing results showed that the psyllium husk group exhibited a different gut microbiota composition compared to that of the placebo group. The psyllium group's microbiota demonstrated a stronger network, with correlations and clusters of operational taxonomic units (OTUs) and enhanced abundance of metabolism-related KEGG pathways.[xi]
Researchers concluded that psyllium husk may favorably alter the gut microbiome and safely relieve symptoms of constipation in healthy adults.[xii]
Psyllium Benefits Your Digestive Health
We've detailed some of psyllium's bowel health benefits and mentioned its regulating effects on blood sugar and cholesterol levels. But the benefits of psyllium husk supplementation do not stop there. Psyllium husk has demonstrated therapeutic value for numerous digestive diseases, including irritable bowel syndrome (IBS), ulcerative colitis and colon cancer.
A 2016 study on children with IBS found that psyllium fiber outperformed placebo in reducing the pain associated with IBS, while a 2009 study found that, after three months of treatment, psyllium fiber reduced IBS symptoms by nearly double that of placebo group, and was better tolerated than bran fiber supplementation, in adults with IBS.[xiii]
A study on psyllium as compared to mesalamine, a nonsteroidal anti-inflammatory drug (NSAID) used to treat colitis, found that psyllium was comparable to, and potentially as effective as, the popularly prescribed NSAID drug,[xiv] with a higher safety profile.
While studies on psyllium husk for the prevention of colorectal cancer are inconclusive, there is significant research suggesting that individuals consuming higher levels of dietary fiber have reduced risk of colon cancer.[xv] A study on colorectal cancer patients who were treated with psyllium fiber for three months, post-surgery, found that the seed husks improved the colonic flora and increased production of butyrate and acetate, short-chain fatty acids that exert antitumor effects.[xvi]
Psyllium seed husks have also been shown to reduce symptoms of GERD, a common digestive problem characterized by heartburn and acid reflux, and may help prevent Type 2 diabetes. To learn more about the benefits of getting adequate dietary fiber, consult GreenMedInfo.com, the world's most widely referenced, evidence-based natural medical resource.

© [11/8/2022] GreenMedInfo LLC. This work is reproduced and distributed with the permission of GreenMedInfo LLC. Want to learn more from GreenMedInfo? Sign up for the newsletter here //www.greenmedinfo.com/greenmed/newsletter.
------------------------------------------------------------------------------------------------
Pedagogy Education offers online continuing education courses in a variety of ways to meet your education goals and budget!
Courses may be purchased individually, or in packages (a bundle of courses, offered at a 10% discount). To view our entire catalog of education, click here. We offer a huge selection of infusion, vascular access, and state-specific IV "certification" courses!
We have annual memberships available to individuals or facilities who want to offer their staff access to a library of education for an entire year. Click here to view our Infusion and Vascular Access CE Membership. Facilities can visit our Annual Memberships to learn more about our nurse and nurse aide custom membership options and to view pricing!
Ready to purchase a course, package, or membership? Start here by creating your account! Want to receive our emails with notifications of new course releases and coupon codes good for discounts on courses? Sign up for our emails here. We would LOVE to have you join us on our social media pages, follow us on Facebook, Twitter, LinkedIn, Instagram, and Pinterest. Watch out for exclusive promo codes!
For organizations that would like to purchase education for their entire staff, email sales@pedagogyeducation.com and let us know the course(s) of interest and how many staff members you need to provide education for, and we will be happy to send you a price quote.