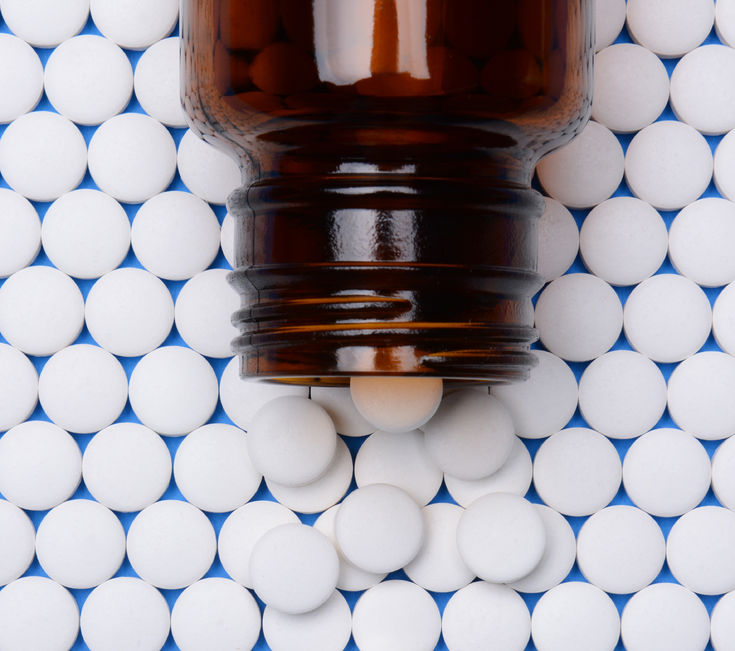 The Aspirin Alternative Your Doctor Never Told You About
WARNING: Never discontinue a pharmaceutical product without the guidance of a physician. Doing so could have serious, if not life threatening side effects. This article is for informational purposes only. Nothing here is intended as or should be substituted for medical advice.
Aspirin is taken faithfully by millions every day as a preventive measure against heart attack, often without the user having any awareness of the serious health risks associated with it, some potentially fatal. You can view over 60 adverse effects of aspirin on the GreenMedInfo.com's aspirin research page if you have any doubts about how serious a concern this is.
Indeed, only a few days ago, the US Preventive Services Task Force (USPSTF) published a final recommendation statement on aspirin advising AGAINST starting its use for the primary prevention of cardiovascular disease in individuals aged 60 years or older. A battery of mainstream news media headlines followed their announcement, such as:
Aspirin's widespread popularity is based on its much-touted blood-thinning properties, and a now debunked widespread belief that it can prevent cardiovascular disease. Thankfully, there are safer, surprisingly more effective and far more natural alternatives on the market today.
For instance, pycnogenol, a branded form of an extract of French maritime pine bark, can be found on the shelves of thousands of health food stores around the country, and unique among natural products, has a broad base of human clinical research supporting its use for a wide variety of health conditions. You can view GreenMedInfo.com's pycnogenol research page take a look at the published research.
Moreover, in cross comparison tests, pycnogenol has been found at least as effective as aspirin in preventing blood from clotting, but at significantly lower doses and with a superior safety profile.
Smoker's Study Proves Pycnogenol More Effective and Safer Than Aspirin
In a previous article titled, "The Powerful Aspirin Alternative That Grows on Trees," we featured a 1999 clinical study published in Thrombotic Research that found that when habitual smokers were given either 500 mg of aspirin or anywhere between 100-200 mg of pycnogenol, the pycnogenol group experienced equivalent platelet aggregation inhibiting effects but with much lower bleeding times:
"Thus, smoking-induced enhanced platelet aggregation was inhibited by 500 mg Aspirin as well as by a lower range of 100-125 mg Pycnogenol. Aspirin significantly (p<0.001) increased bleeding time from 167 to 236 seconds while Pycnogenol did not.These observations suggest an advantageous risk-benefit ratio for Pycnogenol."
This is a highly significant finding, as aspirin-induced bleeding can result in significantly increased morbidity and mortality. One might ask, if pycnogenol is as effective a 'blood thinner' as aspirin but without the same side effects, then what is the downside of using the natural alternative?
Study Confirms Pycnogenol's Superiority to Aspirin
Research comparing pycnogenol to aspirin as a blood thinner has been sparse, but a new study promises to add additional weight to the previously reported finding of pycnogenol's superiority. Published this year in the Italian journal Panminerva Medica and titled, "Recurrence of retinal vein thrombosis with Pycnogenol® or Aspirin® supplementation: a registry study," researchers compared the use of either pycnogenol or aspirin in the prevention of retinal vein thrombosis recurrence after a first episode.
Retinal vein thrombosis is considered to be a relatively common condition intimately related to other conditions that afflict the vascular system, such as hypertension, arteriosclerosis and diabetes.[1]
The study methods were described as follows:
"Possible management options - chosen by patients - were: standard management; standard management + oral Aspirin® 100 mg once/day (if there were no tolerability problems before admission); standard management + Pycnogenol® two 50 mg capsules per day (for a total of 100 mg/day). Number of subjects, age, sex, distribution, percentage of smokers, and vision were comparable."
The results were reported as follows:
"Recurrent RVT was seen in 17.39% of controls and in 3.56% of subjects supplemented with Pycnogenol® (P<0.05 vs. controls). There was RVT in 15.38% of the subjects using Aspirin®. The incidence of RVT was 4.88 times higher with standard management in comparison with the supplement group and 4.32 lower with Pycnogenol® supplementation in comparison with Aspirin®. Vision level was better with Pycnogenol® (20/25 at nine months; P<0.05). With Pycnogenol®, edema at the retinal level was also significantly reduced compared to the other groups. Pycnogenol® has a very good safety profile. In the Aspirin® group 26 completed 9 months and 6 subjects dropped out for tolerability problems. In the Aspirin® group, 2 minor, subclinical, retinal, hemorrhagic episodes during the follow-up were observed (2 subjects out of 26, equivalent to 7.69%). This pilot registry indicates that Pycnogenol® seems to reduce the recurrence of RVT without side effects. It does not induce new hemorrhagic episodes that may be theoretically linked to the use of Aspirin® (or other antiplatelets)."
As you can see, the clear winner in this comparison study was pycnogenol. Not only was the incidence of recurrent retinal vein thrombosis almost five times higher in the aspirin group, vision and retinal swelling (edema) was significantly lower in the pycnogenol group, as well. Moreover, whereas the pycnogenol group had no reported side effects, 6 of the 26 subjects in the aspirin group dropped out due to tolerability issues, and 7.69% of the aspirin group (2 subjects of 26) were found to have retinal bleeding as a side effect in the follow-up period.
Nature Provides Time-Tested Solutions
We really shouldn't be surprised that a naturally occurring complex of phytocompounds (i.e. pycnogenol) should outperform a synthetic drug, considering that our bodies have co-evolved for millions of years with natural things, (e.g. foods, herbs, spices), and only a hundred or more with synthetic ones, (e.g. patent semi- or fully synthetic drugs). Pycnogenol, as a bark extract, is about 65-75 percent proanthocyanidins (procyanidins), a class of polyphenols found in a wide variety of plants, many of which have been in the human diet since the inception of our species and before. Some classical examples include green and black tea, cranberry, bilberry, cocoa beans, cinnamon, and black currant. Polyphenols, of course, are powerful antoxidants, as well as signaling molecules, which likely perform a variety of gene-regulatory functions, that may have value in a wide range of health conditions. Indeed, we have indexed over 150 health benefits linked to polyphenol consumption on our database alone.
Suffice it to say that as the biomedical machine moves forward, and we see an increasingly voluminous body of literature investigating the health benefits and mechanisms of action underpinning natural interventions for disease prevention and treatment, we will become increasingly compelled to choose time-tested, natural alternatives to synthetic chemicals, as the former are not only much safer but often more effective than most scientists and physicians ever dreamed possible.

© 4/30/2022 GreenMedInfo LLC. This work is reproduced and distributed with the permission of GreenMedInfo LLC. Want to learn more from GreenMedInfo? Sign up for the newsletter here //www.greenmedinfo.com/greenmed/newsletter.

------------------------------------------------------------------------------------------------
Pedagogy Education offers online continuing education courses in a variety of ways to meet your education goals and budget!
Courses may be purchased individually, or in packages (a bundle of courses, offered at a 10% discount). To view our entire catalog of education, click here. We offer a huge selection of infusion, vascular access, and state-specific IV "certification" courses!
We have annual memberships available to individuals or facilities who want to offer their staff access to a library of education for an entire year. Click here to view our Infusion and Vascular Access CE Membership. Facilities can visit our Annual Memberships to learn more about our nurse and nurse aide custom membership options and to view pricing!
Ready to purchase a course, package, or membership? Start here by creating your account! Want to receive our emails with notifications of new course releases and coupon codes good for discounts on courses? Sign up for our emails here. We would LOVE to have you join us on our social media pages, follow us on Facebook, Twitter, LinkedIn, Instagram, and Pinterest. Watch out for exclusive promo codes!
For organizations that would like to purchase education for their entire staff, email sales@pedagogyeducation.com and let us know the course(s) of interest and how many staff members you need to provide education for, and we will be happy to send you a price quote.