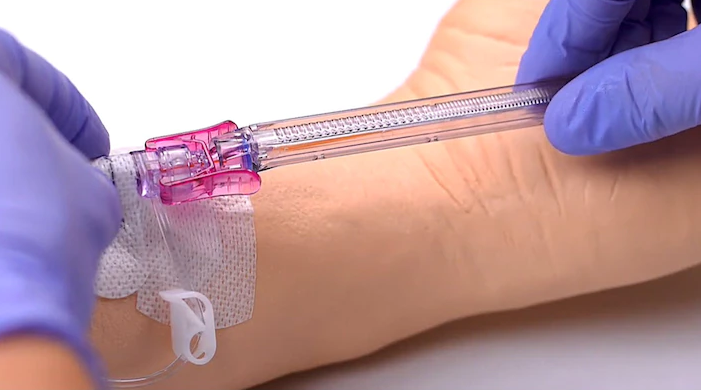 BD is Making Needle-free Blood Collection Possible
Fear of needles is common, but you have the power to help improve patient comfort.8

Almost every hospital patient experiences IV access and blood draws, and these procedures may be associated with a high degree of complications.9,10 This may be stressful for the 24% of adults and 63% of children who say they have needle phobia.11
The PIVO™ Blood Collection Device is designed to overcome traditional barriers, delivering a high-quality, reliable blood sample.7,12 By extending beyond the suboptimal draw conditions around the IV, the blood collection device can reach vessel locations where blood flow is optimal for aspiration.
Direct sampling through internal flow tube - Collects a fresh venous sample, reducing risk of dilution or contamination.13
Winged clip - Allows for easy attachment/removal with audible click, confirming secure connection.
Slider enables adjustable aspiration location - Designed to extend past the suboptimal draw conditions around the IV, to reach vessel locations where blood flow is optimal for aspiration.
Controlled fluid path - Designed to aid in overcoming tortuous vessels, improve laminar flow, control flow velocity, and reduce turbulence during aspiration.20
Universal female luer - Compatible with standard blood collection systems.​
During the BD Needle-free Blood Draw Procedure with the PIVO™ Blood Collection Device, a flexible internal flow tube advances through the PIVC and into the vessel to go beyond suboptimal draw conditions to collect a high-quality, reliable blood sample.

Elevate patient care by reducing:
Risk of IV replacement
Repetitive needlesticks, which aids in vessel health preservation2
Reliance on central line draws3,4,5
Studies demonstrated reduction in preanalytical lab errors and sample recollections.
94.8% demonstrated success rate in collecting more than 3,600 samples on the first draw.1
56% Reduction in preanalytical errors compared to conventional blood draws.1
39% Reduction in hemolyzed samples vs. all other collection methods.6
Click here
to download the BD Peripheral Line Draw Solution Bochure.
This article is for educational use only. Pedagogy does not endorse or recommend the use of any product or product manufacturer.
----------------------------------------------------------------------------------------------------------------------
For healthcare professionals wanting to learn more, take a look at our entire catalog on infusion continuing education courses! Click here to access the largest selection of infusion continuing education courses offered online, including our discounted course packages and membership option!
Our courses are available for purchase by the individual or facility. For individuals, register with us to create your username and password, click on the course title of interest and then click the Buy Now button. For a complete listing of all our online continuing education courses click here.
For facilities or organizations that would like to purchase education for their staff, email sales@pedagogyeducation.com let us know the course(s) of interest and how many staff members you need to provide education for, and we will be happy to send you a price quote!