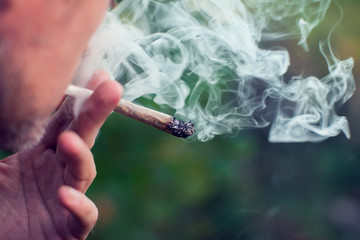 Study Shows Cannabis Smokers More Likely to Develop Emphysema Than Cigarette Smokers
Cannabis is the most-commonly smoked substance after tobacco and is used for both recreational and medical purposes.
As the number of cannabis users increases, there's an ongoing need to study the effects of smoking cannabis on the lungs.
In a new study, researchers completed a case-control study of cannabis smokers, tobacco-only smokers, and nonsmokers and found that airway inflammation and emphysema are more common in people who smoke cannabis than in cigarette smokers and nonsmokers.
The researchers looked for evidence of emphysema and other lung changes using image analysis of the chest CT scans. They found that people who smoked cannabis had higher rates of airway changes than people who only smoked tobacco or nonsmokers.
Lead author Dr. Giselle Revah, a cardiothoracic radiologist at Ottawa Hospital in Canada and assistant professor in the department of radiology, radiation oncology and medical physics at the University of Ottawa, explained to Medical News Today:
"Emphysema is a disease of the small air sacs in the lungs when the walls of those sacs get damaged. Small holes are created in the lung, and in those areas, the gas exchange function of the lung is impaired (taking in oxygen and removing carbon dioxide)."
The researchers suggested these differences might be due to the way that cannabis is smoked, as cannabis smoke typically enters the lungs unfiltered.
The findings were published on November 15 in the journal Radiology.
Comparing the effects of cannabis vs. cigarettes on the lungs
Researchers used a retrospective case-control study of chest computerized tomography (CT) findings to examine the effects of cannabis and cigarettes on health outcomes like emphysema, which may cause chronic cough and lead to difficulty breathing.
As part of the research, 146 participants were categorized into the following groups:
cannabis smokers: 56
nonsmoker control patients: 57
or tobacco-only smokers: 33
The researchers compared CT images of cannabis smokers to heavy cigarette smokers and nonsmokers of the same age and gender. They found that emphysema was more common in cannabis smokers than in cigarette smokers or nonsmokers.
"93% of the marijuana smokers had emphysema rather than 67% of the tobacco-only smokers," Dr. Revah said.
The CT scan images were reviewed separately by two trained radiologists who were blinded to the clinical history of the participants (i.e., their history of cannabis or tobacco use).
Any lung findings identified were classified into either emphysema or airway changes.
Statistical analyses were performed, and a consensus was agreed upon by both radiologists to ensure a consistent approach to their review.
The researchers also found that cannabis smokers had higher rates of airway inflammation.
The CT imaging showed more mucus buildup in the airways, bronchial wall thickening, and sometimes irreversible enlargement of the airways.
"This can lead to more congestive symptoms and predisposed to infections," Dr. Revah noted. "Ultimately, we need more robust research before we can make sweeping conclusions."
Dr. Revah added that cannabis smokers also had higher rates of gynecomastia (increased breast tissue growth in males), though this was already a known association.
"Male breast tissue was found in 38% of the marijuana smokers compared to 11% of the tobacco-only smokers and 16% of the controls," Dr. Revah said.
Understanding the risks of smoking cannabis
In general, the public perception is that cannabis is relatively safe, possibly even safer than cigarettes.
But the newly identified link between cannabis use and irreversible lung damage could mean that cannabis is potentially more harmful than many people may realize.
A possible explanation, noted Dr. Revah, is that cannabis is usually smoked unfiltered, whereas tobacco cigarettes are generally filtered.
"When marijuana is inhaled, more particulates reach the airways and are deposited," Dr. Revah explained. These particulates are likely airway irritants. The way marijuana is inhaled compared to tobacco with longer breath hold [and] higher puff volume may lead to microtrauma to the airspaces causing little holes (emphysema)."
Dr. S. Thomas Yadegar, a critical care medicine specialist, pulmonologist, and medical director of the ICU at Providence Cedars-Sinai Tarzana Medical Center, not involved in the study, told MNT:
"The findings of the research point towards confirming a trend we have observed with younger patients presenting with more breathing difficulties. Any inhalation of particulate matter, whether tobacco smoke or marijuana, causes inflammation within the airways. However, both additives, including flavors, preservatives, and pesticides, can be highly variable between cannabis and tobacco products."
Alternatives to smoking cannabis
The findings of the research may have implications for some patients who smoke cannabis-derived products for pain relief or other reasons.
While some people may rely on cannabis for pain relief or other medical reasons, there are a number of alternatives to smoking cannabis that don't involve inhalation.
Alternatives may include cannabis products containing tetrahydrocannabinol (THC), which produces a "high," or hemp or CBD products containing less than 0.3% (THC), such as:
"Some patients have luck with applying cannabis-derived products topically or ingesting, and these do not have the same implications as inhaled products. It is an individualized approach and may require trial and error," Dr. Yadegar said.
Still, Dr. Revah noted that the long-term effects of ingesting cannabis are not yet fully known.
"The problems that we identified in our study were airway problems (from smoke inhalation)," Dr. Revah said. "It would suggest that vaping, smoking, and pipes may cause these problems. Other forms of [cannabis]: eating, lotions are unlikely to affect the airways — but ultimately, more research is still needed."
Nancy Mitchell, RN, a registered nurse and contributing writer at Assisted Living, not involved in the study, told MNT:
"Marijuana smoking has clear implications for respiratory health. So while it may provide relief for other ailments, the consequences may not be worth the risk. The fact there's increased inflammation among marijuana smokers than nonsmokers, and those who only use tobacco raises an eyebrow about the true wellness value of using cannabis to treat ailments."
Mitchell noted that cannabis is generally considered a more natural or herbal remedy.
Some people may be interested in other alternative or complementary techniques, such as diaphragmatic breathing and guided meditation.
"Meditation encourages you to focus on your body and listen to its needs. It builds self-awareness, which in turn helps patients to control their pain thresholds and manage discomfort."

Original article by Medical News Today.
------------------------------------------------------------------------------------------------
For nurses and other healthcare professionals wanting to learn more about CBD, consider taking our course, CBD 101: An Introductory Course!
CBD (in the form of oils, creams, lotions, edibles, and more) has entered mainstream America! Their presence has been noted in the fields of food and beverages, cosmetics, and pharmaceuticals. With projections for this industry to surpass $20 billion dollars by the year 2024, healthcare providers need to be aware of the ever-growing consumer usage, as well as the medical and legal implications for its users.
Pedagogy's courses are available for purchase by the individual or facility. For individuals, register with us to create your username and password, click on the course title of interest and then click the Buy Now button. For a complete listing of all our online continuing education courses, including the largest selection of infusion continuing education courses offered online, click here!
For organizations that would like to purchase education for their entire staff, email sales@pedagogyeducation.com and let us know the course(s) of interest and how many staff members you need to provide education for, and we will be happy to send you a price quote.