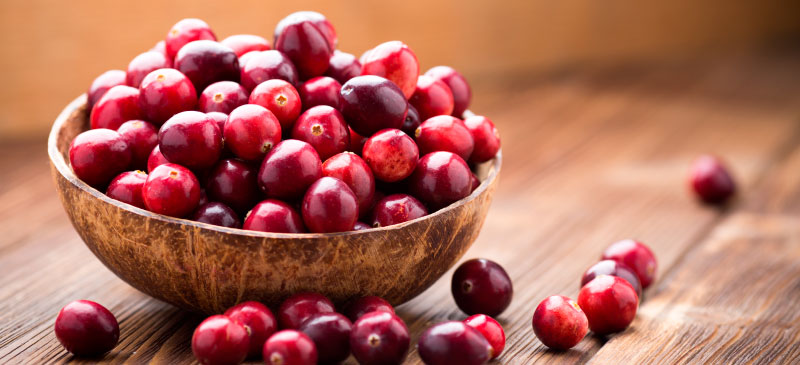 Study Highlights Benefits of Cranberries for Brain Health
We know from recent news that cranberries have a positive effect on heart health, and guess what? The fruit is back at it again, this time with trial results showing it can benefit brain function, too.
A recent study evaluating cranberries for brain health shows that daily consumption can improve memory in older adults, likely because of its high flavonoid content.
Study Findings: Cranberries Boost Brain Health
A 12-week, parallel, randomized, placebo-controlled trial of freeze-dried cranberry powder published in Frontiers in Nutrition evaluated the impact of cranberries on cognitive function and neural functioning in older adults.
Sixty adults between 50 and 80 years old consumed what's equivalent to one small cup of cranberries daily for 12 weeks. After the trial period, researchers observed improvements in visual episodic memory and neural functioning in participants compared to placebo and a significant decrease in LDL cholesterol during the course of intervention.
The dosage used in the trial was roughly 100 grams of fresh cranberries, or one cup, and was calculated to provide 281 milligrams of proanthocyanidins, with an increase of 20 milligrams flavonols and 59 milligrams anthocyanins per day.
Cognition among participants was assessed using a questionnaire that covered attention and orientation, memory, fluency, language and visuospatial functions. Other tests measured executive functions, short-term memory and spatial orientation.
What It Means
The recent trial suggests that cranberries, likely because of their flavonoid content, may help to improve brain health in older adults. We know from previous research that consuming bioflavonoids, the phytonutrients that are found naturally in fruits, vegetables and herbs, help limit neurodegeneration and abnormal deteriorations in cognitive performance.
Two types of flavonoids that are present in cranberries, anthocyanins and proanthocyanidins, are known for their brain health-boosting properties. Anthocyanins, for example, are a group of powerful antioxidants that fight the effects of aging by reducing oxidative stress. There are other studies that show anthocyanin can improve age-related deficits that affect neural and behavioral parameters, including motor functions and memory.
Proanthocyanidins, which are found in grapeseed and cranberry, have demonstrated neuroprotectant and antioxidant effects in animal studies.
Given what we know about these flavonoids, it makes sense that daily cranberry consumption has such a positive effect on brain health among older adults, but long-term benefits and results from other forms of cranberry (like juice vs. freeze-dried) need to be analyzed further to get a better understanding of the fruit's impact.
How to Consume More Cranberries
These days, you can find cranberries in several forms, including as capsules, tablets, powders and extracts. If you're using cranberry supplements, follow the product directions carefully, and speak to your health care provider about the proper intake if you're using the product long term.
For this most recent trial on cranberry consumption, participants consumed what's equivalent to one cup of whole cranberries per day. You can add these delicious fruits into so many recipes, from salads to baked goods and beverages.
Here are some great examples:
Conclusion
Recent research shows that not only are cranberries good for health health, but they benefit brain health, too. A new trial evaluating cranberries for brain health found that consuming cranberry powder daily was able to improve neural functioning and memory. These cranberry benefits are likely due to the fruit's naturally occurring flavonoids, especially anthocyanins and proanthocyanidins, which are known for their brain health-boosting properties.
Article
from Dr. Axe.
------------------------------------------------------------------------------------------------
Pedagogy Education offers online continuing education courses in a variety of ways to meet your education goals and budget!
Courses may be purchased individually, or in packages (a bundle of courses, offered at a 10% discount). To view our entire catalog of education, click here. We offer a huge selection of infusion, vascular access, and state-specific IV "certification" courses!
We have annual memberships available to individuals or facilities who want to offer their staff access to a library of education for an entire year. Click here to view our Infusion and Vascular Access CE Membership. Facilities can visit our Annual Memberships to learn more about our nurse and nurse aide custom membership options and to view pricing!
Ready to purchase a course, package, or membership? Start here by creating your account! Want to receive our emails with notifications of new course releases and coupon codes good for discounts on courses? Sign up for our emails here. We would LOVE to have you join us on our social media pages, follow us on Facebook, Twitter, LinkedIn, Instagram, and Pinterest. Watch out for exclusive promo codes!
For organizations that would like to purchase education for their entire staff, email sales@pedagogyeducation.com and let us know the course(s) of interest and how many staff members you need to provide education for, and we will be happy to send you a price quote.