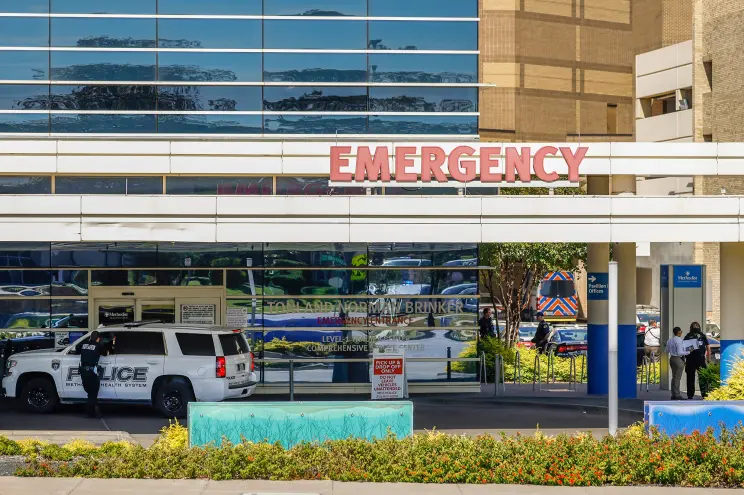 Shooting at Methodist Dallas Leaves Healthcare Community Mourning
A parolee with an ankle monitor opened fire inside a Dallas hospital on Saturday morning, killing two nurses before responding cops shot and wounded him, officials and reports said.

Nestor Hernandez, 30, allegedly killed two people a the Methodist Dallas Medical Center, Dallas police said.

The suspect was out on parole for aggravated robbery and is now facing capital murder charges, according to police.

The nurses worked in the labor and delivery department at the center, Charley Wilkison, CEO of the Combined Law Enforcement Associations of Texas tweeted.

The shooting happened about 11 a.m. local time, according to hospital spokesperson Ryan Owens.

"A Methodist Health System Police Officer arrived on the scene, confronted the suspect, and fired his weapon at the suspect, injuring him," Owens said in a statement.

The suspect was detained, stabilized, and taken to another local hospital, the medical center said.

It was unclear what led to the shooting, reports said. It also wasn't clear if the suspected gunman was targeting the specific nurses as of Saturday evening.

Dallas Police Chief Eddie Garcia called theshooting "an abhorrent failure of our criminal justice system."

"Our thoughts are with staff and victims of today's events," he wrote. "We will do EVERYTHING to assist in this investigation.This is a tragedy, and an abhorrent failure of our criminal justice system.

A woman visiting her mother at the hospital told FOX 4 she received a call from her dad, who barricaded himself in the room.

"He said 'there's a shooter in the building,'" Denise Jones told the station. "He said, 'get back in your car and get as far away from the hospital as you can."

A planned tour with breast cancer survivors of the hospital's new Linda and Mitch Hart Breast Center has been canceled, FOX4 reported.

The victims' identities weren't immediately known.
"The Methodist Health System Family is heartbroken at the loss of two of our beloved team members," a statement from the system's leadership said.
"Our entire organization is grieving this unimaginable tragedy. During this devastating time, we want to ensure our patients and employees that Methodist Dallas Medical Center is safe, and there is no ongoing threat."
Dallas Mayor Eric Johnson tweeted about the tragedy Saturday.
"I am praying tonight for the loved ones and colleagues of the two nurses at Methodist Dallas Medical Center who were violently and senselessly taken from us," he said. "Our city loves our healthcare heroes, and our residents will be there for them as we grieve and seek swift justice."
Hospital police didn't return phone a phone call for comment from the Associated Press. Dallas police referred questions to hospital police.

Original article by New York Post.