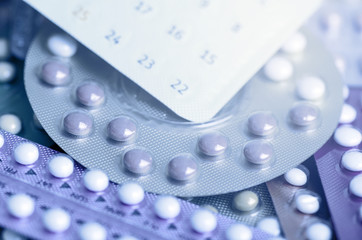 Oral Contraceptives and Changes in Nutritional Requirements
Oral contraceptives (OCs) are a major class of prescription drug, used by a large proportion of women starting from early adolescence. Much research has been conducted to investigate the physiological changes that occur in women who take OCs. These include changes in general health as well as in nutritional needs.
In terms of nutrition, several studies investigated whether women on OCs need different amounts of some vitamins and minerals. In particular, a report from the World Health Organization (WHO) points out that the influence of OCs on nutrient requirements is a topic of high clinical relevance and should, therefore, receive great attention.
It has been shown that the key nutrient depletions concern folic acid, vitamins B2, B6, B12, vitamin C and E and the minerals magnesium, selenium and zinc. Most research has focused on the levels of these vitamins and minerals in the blood of women who take OCs compared to women who do not. Since women who take OCs not always have adequate diet, may have unhealthy life style or may suffer from pathologies of malabsorption, the possibility to prevent vitamin and mineral deficiencies by taking appropriate dietary supplements should be considered a first-line approach by clinicians.
Original article
from pubmed.gov.
------------------------------------------------------------------------------------------------
Pedagogy Education offers online continuing education courses in a variety of ways to meet your education goals and budget!
Courses may be purchased individually, or in packages (a bundle of courses, offered at a 10% discount). To view our entire catalog of education, click here. We offer a huge selection of infusion, vascular access, and state-specific IV "certification" courses!
We have annual memberships available to individuals or facilities who want to offer their staff access to a library of education for an entire year. Click here to view our Infusion and Vascular Access CE Membership. Facilities can visit our Annual Memberships to learn more about our nurse and nurse aide custom membership options and to view pricing!
Ready to purchase a course, package, or membership? Start here by creating your account! Want to receive our emails with notifications of new course releases and coupon codes good for discounts on courses? Sign up for our emails here. We would LOVE to have you join us on our social media pages, follow us on Facebook, Twitter, LinkedIn, Instagram, and Pinterest. Watch out for exclusive promo codes!
For organizations that would like to purchase education for their entire staff, email sales@pedagogyeducation.com and let us know the course(s) of interest and how many staff members you need to provide education for, and we will be happy to send you a price quote.