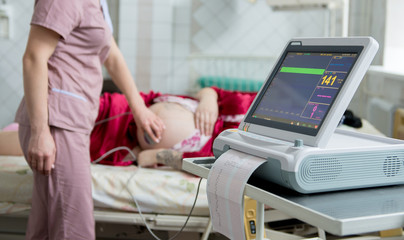 L&D Nurse Reveals Strangest Things Men Say in the Delivery Room
Known as "Hollyd_rn" on TikTok, Holly is a labor and delivery nurse with a penchant for sharing her work experience with the world. Recently, the registered nurse revealed the strangest things she has heard fathers say inside the delivery room.

"I think you should just get a C-section," Holly remembered one father saying. "This is taking too long."

"Sew an extra stitch down there for me, doc," another said. "We want everything just the way it was before all of this."

"How long is this gonna take? I have plans this weekend."

By popular demand, Holly has since posted a second video.

According to Holly, handling fathers in the delivery room is all a part of the job.
"Sometimes the moms think it's funny — and if they think it's funny, then I'll laugh with them," Holly told TODAY Parents. "But if they get upset, I'll try to be the buffer. I'll change the subject."
The experienced delivery room nurse said that the couples that had the most success in the delivery room usually had a birthing plan in place. One patient in particular came to her mind.
"Her husband made this portable vending machine with snacks in all different flavors and it was the sweetest thing," Holly said. "He found the perfect way to support her."

From fathers missing the birth of their children because of a poorly timed nap to fathers being too distracted by their phones to notice what was happening, Holly said she has seen it all.

Holly said that fathers should think twice before giving their thoughts on pain medications or asking about each contraction.

"She can feel it!" Holly quipped. "You don't need to ask her if she felt it. Trust me, she did."

Article from The Atlanta Journal-Constitution.
----------------------------------------------------------------------------------------------------------------------
Want to learn more about different aspects of nursing care for pregnant and postpartum patients? Click the linked text below to view each course's description page:
Our courses are available for purchase by the individual or facility. For individuals, register with us to create your username and password, click on the course title of interest and then click the Purchase button. For a complete listing of all our online continuing education courses click here.
For facilities or organizations that would like to purchase education for their staff, email sales@pedagogyeducation.com let us know the course(s) of interest and how many staff members you need to provide education for, and we will be happy to send you a price quote!