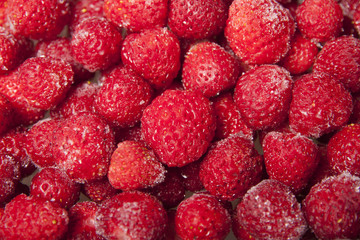 Frozen Fruit Recall Issued Due to Hepatitis A Outbreak
A frozen fruit recall has been issued across several states due to an outbreak of Hepatitis A.

The Food and Drug Administration (FDA) announced that Scenic Fruit Company has recalled its frozen organic strawberries.

The products were sold in several popular grocery stores like Trader Joe's, Costco, Aldi, KeHE, Vital Choice Seafoods and PCC Market.

A frozen organic tropical blend from Trader Joe's is also being recalled.
The organic strawberries sold to Simply Nature from the following states: Arizona, Arkansas, California, Illinois, Iowa, Michigan, Minnesota, Missouri, North Dakota, South Dakota, Ohio and Wisconsin.
The fruit appeared as Vital Choice, Kirkland Signature, Made With and PCC Community Markets in Washington, Alaska, Idaho, Montana, Oregon, Utah, Illinois and Maryland.
And the pineapple, banana, mango and strawberry blend in Trader Joe's was recalled nationwide.
The following products are part of the recall:
Simply Nature organic strawberries with the UPC 4099100256222 and best by date of 6/14/2024
Vital Choice organic strawberries with the UPC 834297005024 and best by date of 5/20/2024
Kirkland Signature organic strawberries with the UPC 96619140404 and best by date of 10/8/2024
Made With organic strawberries with the UPC 814343021390 and best by date of 11/20/2024
PCC Community Markets organic strawberries with the UPC 22827109469 and best by date of 10/29/2024
Trader Joe's organic tropical fruit blend pineapple, bananas, strawberries & mango with the UPC 00511919
The Center for Disease Control and Prevention (CDC) claims the frozen fruit is the "likely" source of the outbreak, which is said to have occurred between Nov. 24 and Dec. of last year, reporting a total of five documented cases of Hepatitis A.
All the cases—two hospitalizations and no deaths—were reported in Washington State with patients indicating they ate the frozen organic strawberries prior to developing symptoms.
Hepatitis A is a contagious liver infection that can include symptoms such as fatigue, abdominal pain, jaundice, and more. Symptoms range in severity from person to person. The disease can be prevented with a vaccine if administered within two weeks of exposure to the contaminated food, the CDC notes.
Anyone with symptoms should also seek out immediate care. Consumers with questions may contact the company at customer.service@scenicfruit.com
The recall comes on the heels of another similar one in December. At the time, Exportadora Compramar, the parent company of James Farm, recalled almost 1300 cases of frozen raspberries after discovering a potential Hepatitis A contamination.
Article from
Parade.com
.
------------------------------------------------------------------------------------------------
Pedagogy Education offers online continuing education courses in a variety of ways to meet your education goals and budget!
Courses may be purchased individually, or in packages (a bundle of courses, offered at a 10% discount). To view our entire catalog of education, click here. We offer a huge selection of infusion, vascular access, and state-specific IV "certification" courses!
We have annual memberships available to individuals or facilities who want to offer their staff access to a library of education for an entire year. Click here to view our Infusion and Vascular Access CE Membership. Facilities can visit our Annual Memberships to learn more about our nurse and nurse aide custom membership options and to view pricing!
Ready to purchase a course, package, or membership? Start here by creating your account! Want to receive our emails with notifications of new course releases and coupon codes good for discounts on courses? Sign up for our emails here. We would LOVE to have you join us on our social media pages, follow us on Facebook, Twitter, LinkedIn, Instagram, and Pinterest. Watch out for exclusive promo codes!
For organizations that would like to purchase education for their entire staff, email sales@pedagogyeducation.com and let us know the course(s) of interest and how many staff members you need to provide education for, and we will be happy to send you a price quote.