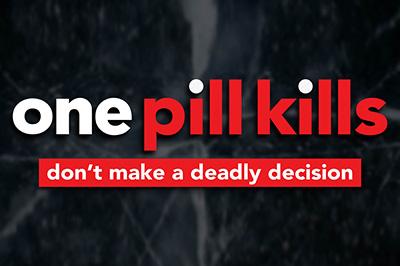 Fentanyl: One Pill Kills
What is Fentanyl?
Fentanyl is a powerful synthetic opioid that is up to 50 times stronger than heroin and 100 times stronger than morphine. Just 2 milligrams of fentanyl, equal to 10 to 15 grains of table salt, is considered a lethal dose.
Illegally manufactured fentanyl is found in heroin, cocaine, methamphetamine and in counterfeit pills. As a result, many people may not know they're ingesting fentanyl, leading to an accidental poisoning.
Criminal drug networks are mass-producing fake pills, falsely marketing them as legitimate prescription pills, and killing unsuspecting Texans, according to the Drug Enforcement Administration. Some counterfeit pills are made to look like prescription opioids like oxycodone (Oxycontin, Percocet), hydrocodone (Vicodin) and alprazolam (Xanax), or stimulants like amphetamines (Adderall). Fake prescription pills that are widely accessible can contain deadly doses of fentanyl. They are often sold on social media and e-commerce platforms — making them available to anyone with a smartphone, including teens and young adults. Texans should only take legitimate pharmaceutical medications prescribed by medical professionals and dispensed by pharmacists in the U.S.


What is Naloxone?
Naloxone is a medication that can reverse an overdose from opioids — including fentanyl. If you or someone you know is at risk of an opioid overdose, speak with your doctor or pharmacist about obtaining naloxone to carry and keep at home. A prescription is not required.
Signs of an overdose:
Small, constricted "pinpoint pupils"
​Face is extremely pale and/or feels cold or clammy to the touch
Body goes limp
Fingernails or lips have a purple or blue color
Vomiting or making gurgling noises
Cannot be awakened or unable to speak
Breathing or heartbeat slows or stops
How to save a life:
Call 911 right away
Try to wake the person up
Give naloxone, if available
Begin rescue breathing or CPR
Turn the person on their side to prevent choking
Stay with the person until emergency services arrive
What Youth and Young Adults Should Know
Many fake pills are made to look just like prescription Xanax (bars), Percocet (perk), opioids (painkillers) like Vicodin and Oxycodone (oxy), and stimulants like Adderall (addy).
These fake pills are increasingly common, and fentanyl may be mixed into them. Even in small doses, fentanyl can be deadly.
Be prepared to save a life. Learn the signs of a fentanyl poisoning and speak with your doctor or pharmacist about obtaining naloxone to carry and keep at home.
What Parents Should Know
Whether you want to inform your child of the risks or are concerned about a loved one who uses drugs, it's time to talk about fentanyl. Have a calm, direct conversation, and listen without judgment. Work together to make a plan to stay safe.
Naloxone is a medication that can reverse an overdose from opioids, including fentanyl. Keeping it on hand could mean the difference between life and death — for you or someone else. Naloxone is available at many pharmacies in Texas without a prescription.
Help for First Responders and Health Care Workers
Due to high levels of stress, first responders and health care workers are at risk for substance use disorders. The Heroes Helpline is a free, confidential, telephone support line available to EMS and health care workers. Callers can access free peer support, learn how to navigate treatment and referral services, and receive information on employment and licensing concerns.
Go to Heroes Helpline or call 833-367-4689.
How Can Schools and Youth Programs Help?
Schools and programs serving youth can increase awareness and create safe environments for children. They can educate youth and their community on the dangers of fentanyl and how to help prevent opioid misuse and addiction.
Schools and programs serving youth can be prepared for an opioid overdose by having naloxone available and providing training on how to administer it. Also, schools can update their memorandums of understanding (MOUs) with local first responders to ensure a plan is in place to immediately respond to an overdose.

Living With a Substance Use Disorder?
Treatment and recovery are possible.
The Texas Targeted Opioid Response supports treatment and recovery providers across the state. Get Help at txopioidresponse.org.
Additionally, Outreach, Screening, Assessment and Referral (OSAR) providers offer Texans comprehensive services for fentanyl and other substance use. Callers speak with a trained counselor who can assess needs and refer them to a variety of services, including in-person and telehealth treatment. To find your local OSAR, go to Outreach, Screening, Assessment & Referral.

Click here to read more and view downloadable content from the Texas Health an Human Services
------------------------------------------------------------------------------------------------
Pedagogy offers online continuing nurse education course on pain management, with a review of alternative pain control options as well as standard treatment options. Many states are requiring nurses and medication prescribers to have continuing education regarding appropriate opioid use and abuse of these medications.
Our courses are available for purchase by the individual or facility. For individuals, register with us to create your username and password, click on the course title of interest and then click the Purchase button. For a complete listing of all our online continuing education courses click here.
For facilities or organizations that would like to purchase education for their staff, email sales@pedagogyeducation.com let us know the course(s) of interest and how many staff members you need to provide education for, and we will be happy to send you a price quote!