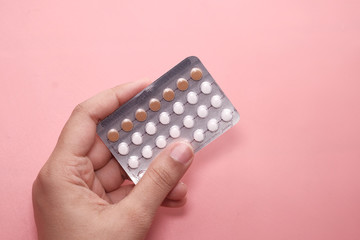 Caution Urged for Those Using Obesity Drugs and Birth Control Pills
For women who are obese, daily life is wrought with landmines. Whether it's the challenges of air travel because plane seats are too small, the need to shield themselves from the world's discriminating eyes, or the great lengths many will go to achieve better health and the promise of longevity, navigating life as an obese person requires a thick skin.
So, it's no wonder so many are willing to pay more than $1,000 a month out of pocket to get their hands on drugs like semaglutide (Ozempic and Wegovy) or tirzepatide (Mounjaro). The benefits of these drugs, which are part of a new class called GLP-1 receptor agonists, include significant and rapid weight loss, blood sugar control, and improved life quality; they are unprecedented in a setting where surgery has long been considered the most effective long-term option.
On the flip side, the desire for rapid weight loss and better blood sugar control also comes with an unexpected cost. Many women living with obesity who take oral contraceptives are unaware that these drugs – especially Mounjaro – can interfere with the absorption of birth control pills and how well they work, making an unintended pregnancy more likely.
Neel Shah, MD, an endocrinologist and associate professor at the University of Texas Health Science Center at Houston, said he has had several patients become pregnant without intending to.
"It was when Mounjaro came out on the market when we started using it," he said of the drug the FDA approved for type 2 diabetes in 2022. "It [the warning] was in the product insert, but clinically speaking, I don't know if it was at the top of providers' minds when they were prescribing Mounjaro."
When asked if he believed that we were going to be seeing a significant increase in so-called Mounjaro babies, Shah was sure in his response.
"Absolutely. We will because the sheer volume [of patients] will increase," he said.
It's All in the Gut
One of the ways that drugs like Mounjaro work is by delaying the time that it takes for food to move from the stomach to the small intestine. Although data is still evolving, it is believed that this process – delayed gastric emptying – may affect the absorption of birth control pills.
Shah said another theory is that vomiting, which is a common side effect of these types of drugs, also affects the pills' ability to prevent pregnancy.
And "there's a prolonged period of ramping up the dose because of the GI [gastrointestinal] side effects," said Pinar Kodaman, MD, PhD, a reproductive endocrinologist and assistant professor of gynecology at the Yale School of Medicine in New Haven, CT.
"Initially, at the lowest dose, there may not be a lot of potential effect on absorption and gastric emptying. But as the dose goes up, it becomes more common, and it can cause diarrhea, which is another condition that can affect the absorption of any medication," she said.

Original article from Medscape.
------------------------------------------------------------------------------------------------
Pedagogy Education offers online continuing education courses in a variety of ways to meet your education goals and budget!
Courses may be purchased individually, or in packages (a bundle of courses, offered at a 10% discount). To view our entire catalog of education, click here. We offer a huge selection of infusion, vascular access, and state-specific IV "certification" courses!
We have annual memberships available to individuals or facilities who want to offer their staff access to a library of education for an entire year. Click here to view our Infusion and Vascular Access CE Membership. Facilities can visit our Annual Memberships to learn more about our nurse and nurse aide custom membership options and to view pricing!
Ready to purchase a course, package, or membership? Start here by creating your account! Want to receive our emails with notifications of new course releases and coupon codes good for discounts on courses? Sign up for our emails here. We would LOVE to have you join us on our social media pages, follow us on Facebook, LinkedIn, Instagram, and Pinterest. Watch out for exclusive promo codes!