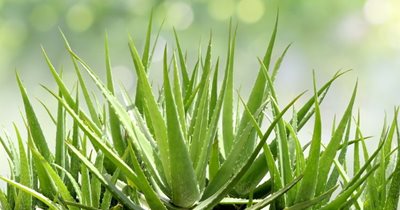 Aloe Vera: Top Uses for This Easy-to-Grow Plant
More than just helping your skin recover from sunburn, aloe vera has a rich array of uses to improve your health and well-being. It can be ingested to fight inflammation or irritable bowel syndrome, or applied topically to fight eczema and other skin conditions. Here are compelling reasons to maintain your aloe vera plant at home -- or start growing one today.
It may be widely known for treating wounds and skin injuries, but Aloe barbadensis -- more popularly known as aloe vera -- is more than just a sunburn buster. This thick, short-stemmed plant is a flexible natural remedy that even people not gifted with a green thumb are fond of growing at home.
Aloe vera stores water in its leaves, which contain a slimy tissue that serves as the thick "gel" that people typically associate with the plant.[i] Its extensive food, cosmetic and medicinal uses have built a massive global market worth at least $13 billion in annual value.[ii] Here's a quick list of aloe's therapeutic benefits that you shouldn't ignore.
Nutrient-Packed Juice
Aloe vera juice, served at some cafes and health food shops, is a refreshing beverage often served cold that can be a healthful alternative to many sugary drinks available.
Studies have documented the juice's various benefits, such as a laxative effect that can treat constipation[iii] and an anti-inflammatory agent that can help tackle aches and pain as well as help reduce gum inflammation when used as a mouthwash.[iv]
Aloe vera juice can also be an ally in proper digestion, with 2014 research showing that it may reduce the incidence of stomach ulcers and enhance overall digestive function.[v]
Wound Healing and Skin Health
Aloe is known to accelerate cutaneous or skin wound healing. Research documented this among Type 2 diabetic rats[vi] and radiation-exposed animal models, with irradiation as a known factor for delayed wound healing.[vii]
This plant was also found to be topically useful in treating eczema[viii] and fighting multidrug resistant Pseudomonas in burn wound infections.[ix]
Relief From Bowel Conditions
A systematic review and meta-analysis concluded that aloe vera is a safe and effective option for patients with irritable bowel syndrome compared to placebo.[x]
Oral aloe vera taken for four weeks also demonstrated favorable effects more often than placebo in inflammatory bowel disease.[xi] In the randomized trial involving 44 outpatients with ulcerative colitis, subjects treated with aloe vera -- 100 milliliters (ml) twice every day for four weeks -- saw improvement while the placebo group did not.
A review of scientific studies found that herbal therapy slashed inflammatory activity of experimental colitis or inflammatory bowel condition, diminishing levels of many inflammatory markers such as oxidative stress.[xii] Aloe vera emerged as one of the most promising herbal products in the mix.
Improvement of Facial Wrinkles
In a study published in the journal Annals of Dermatology in 2009, healthy female subjects over age 45 who received two different oral doses of aloe vera gel supplementation for 90 days saw remarkable results.[xiii] The researchers found that facial wrinkles in both groups significantly improved while facial elasticity in the low-dose group increased.
Anti-Cancer Activity
In a study involving 240 patients with metastatic cancer, patients treated with aloe vera fared better than their counterparts in terms of survival.
"The percentage of both objective tumor regressions and disease control was significantly higher in patients concomitantly treated with Aloe than with chemotherapy alone, as well as the percent of 3-year survival patients," the authors noted.[xiv]
Now that you're better acquainted with aloe vera benefits and know that it's more than just a sunburn soother, you may consider growing your own at home as a succulent on your work table or as a delightful tropical touch in another part of the house.

© [05/24/2023] GreenMedInfo LLC. This work is reproduced and distributed with the permission of GreenMedInfo LLC. Want to learn more from GreenMedInfo? Sign up for the newsletter here //www.greenmedinfo.com/greenmed/newsletter.
------------------------------------------------------------------------------------------------
Pedagogy Education offers online continuing education courses in a variety of ways to meet your education goals and budget!
Courses may be purchased individually, or in packages (a bundle of courses, offered at a 10% discount). To view our entire catalog of education, click here. We offer a huge selection of infusion, vascular access, and state-specific IV "certification" courses!
We have annual memberships available to individuals or facilities who want to offer their staff access to a library of education for an entire year. Click here to view our Infusion and Vascular Access CE Membership. Facilities can visit our Annual Memberships to learn more about our nurse and nurse aide custom membership options and to view pricing!
Ready to purchase a course, package, or membership?
Start here by creating your account!
Want to receive our emails with notifications of new course releases and coupon codes good for discounts on courses?
Sign up for our emails here.
We would LOVE to have you join us on our social media pages, follow us on Facebook, LinkedIn, Instagram, and Pinterest. Watch out for exclusive promo codes!