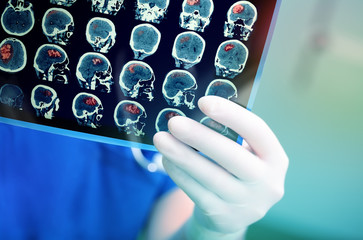 Deadly Stroke on Rise Among Young, Middle-Aged Adults
There is an odd trend going on as it relates to the incidence of stroke in the United States: The rate of strokes is declining in Americans aged 75 and over while it's actually increasing in adults under 50 years old. Perhaps even more curiously, new research from the American Heart Association (AHA) shows a deadly type of stroke is on the rise among young and middle-aged adults in the U.S.
That makes it all the more imperative to keep an eye out for the warning signs of a stroke and help prevent strokes in the first place.
Study: Deadly Stroke on Rise
A team of researchers from Houston Methodist Hospital, along with one from the University of Cincinnati's Department of Neurology and Rehabilitation Medicine, examined U.S. Census Bureau and the Nationwide Inpatient Sample data to unearth trends in the incidence of intracerebral hemorrhage (ICH) stroke over a 15-year period (2004–2018). This type of debilitating and deadly stroke causes bleeding in the brain and often leads to brain damage.
The researchers broke the data out into four groups:
18–44 years old
45–64 years old
65–74 years old
75 years old and older
Here is what the results, published in the AHA's journal Stroke, revealed:
11% increase in ICH rate among all U.S. adults over the 15 years examined
38% increase among 18–44-year-olds
33% increase among 45–64-year-olds
24% increase among Black Americans
13% increase among males
16% increase in hypertension
130% increase in use of anticoagulant drugs
That's not all. As Laura Williamson relayed in an article for American Heart Association News:
ICH increased at a faster rate for adults under age 65 compared to those 75 and older. The rate of increase also varied by region, climbing faster in the South, West and Midwest than it did in the Northeast. ICH stroke rates were 43% higher for men than women.

Among those who had ICH strokes, the percentage of people who had high blood pressure also rose, from 74.5% to 86.4% over the study period.
What It Means
This is truly an alarming trend that led to the researchers to conclude:
Despite improvements in control and prevention of risk factors, nationwide ICH incidence has increased in the past 15 years. Minority populations continue to experience disparate ICH burden. Higher rates of increase in ICH incidence among young and middle-aged Americans are particularly concerning and warrant targeted primary prevention programs.
As a result, they added that "rising ICH incidence among young and middle-aged Americans warrants ICH prevention strategies targeting these economically productive age groups."
Dr. Karen Furie, chief of neurology at Rhode Island Hospital and chair of the department of neurology at Brown University's Warren Alpert Medical School in Providence, agreed. Here's what she told Williamson: "From a public health perspective, these results are troubling and indicate risk factors are not being well managed in young adults in the U.S.
"… Earlier onset of this disease is very alarming and indicates we need to be more aggressive with primary prevention."
Tips to Help Prevent Stroke
It's vital to take care of your heart to help prevent strokes. Here are some things you can do to help reverse the deadly stroke on the rise trend:
Maintain healthy blood pressure by eating a high blood pressure diet that focuses on high-antioxidant vegetables, fruit, lean protein, beans, legumes, healthy fats, whole grains (ideally sprouted) and organic, unsweetened dairy products.
Manage weight, since obesity is a major risk factor for both heart disease and stroke.
Avoid or quit smoking.
Keep cholesterol in check by consuming cholesterol-lowering foods and avoiding unhealthy processed foods.
Prioritize sleep.
Get enough vitamin D.
Avoid or limit artificial sweetener consumption.
Don't abuse alcohol.
Exercise regularly, and avoid a sedentary lifestyle.
Conclusion
According recent research published by the American Heart Association, a deadly form of stroke, intracerebral hemorrhage (ICH), is on the rise among adults in the U.S. Over a 15-year period, ICH incidence has risen by 11% overall.
The rate is increasing most among 18–44-year-olds, followed by those 45–64 years old. It's also rising more among Black Americans and males.
The AHA researchers and other medical experts urge adults to be more aggressive in preventing ICH stroke and focusing on heart health at a young age.
Ways to help prevent stroke and maintain a healthy heart include eating a healthy diet, keeping weight in check, avoiding or quitting smoking, getting enough sleep and vitamin D, exercising regularly, and avoiding a sedentary lifestyle.
----------------------------------------------------------------------------------------------------------------------
Healthcare professionals can learn more about stroke, prevention and current standards of treatment with our online continuing education courses!
Our two online continuing education Stroke courses in one easy to purchase bundle with a price savings. This combination of Stroke: An Introduction and Stroke Management: Advanced provides 5.5 contact hours of stroke continuing education.
In 2003, The Joint Commission launched its Primary Stroke Center Certification Program. As of January, 2011, there are more than 800 certified primary stroke centers. The designation signifies that the hospitals meet requirements to provide emergency diagnostic and therapeutic services by a multidisciplinary team 24 hours a day, seven days a week, to patients with symptoms of acute stroke.
Eight hours of annual stroke specific continuing education is required for the staff that comprise core stroke teams and emergency department staff is required to have knowledge of the stroke pathophysiology, presentation, assessment, diagnosis and treatment including thrombolytic therapy. Nurses on non-stroke units, where stroke patients are not routinely cared for, and ancillary staff should receive education related to recognition of stroke signs and symptoms and activation of the organization's emergency response processes. This course package would be excellent for all healthcare providers, and will assist hospitals seeking both initial and renewal of primary stroke center certification!